PADMAVATI -Much awaited movie!!!
Sanjay Leela Bhansali is all set to release his new drama movie 'Padmavati' featuring Deepika Padukone, Shahid Kapoor and Ranveer Singh. The film depicts the story of Rani Padmini (Deepika Padukone), who was the wife of Ratan Sen (Shahid Kapoor), the ruler of Mewar, and Alauddin Khilji  (Ranveer Singh). The movie is going to hit the cinemas on 1st December 2017 in India and the makers have decided to release in Paris too.
After the two big success, Goliyon Ki Raasleela Ram-Leela (2013) and Bajirao Mastani (2015), Bhansali, after 2 years, is now back with the folk tale of the Legendary queen of Chittor. After the release of movie trailers and first song 'Ghoomer', the audience have gone crazy for Deepika's looks.Everything in this film makes it a 'must watch' movie.
Why should you watch Padmavati?
After the failure of some big star movies like Tubelight and Jagga Jasoos, people now have all their hopes with Padmavati. Since the movie has been in highlights from a long time, here are the 5 reasons you should definitely watch Padmavati in theatres.
1) Ranveer Singh as a villain
After the blockbuster hits Bajirao Mastani and Goliyon Ki Raasleela Ram-Leela, it will be worth seeing Ranveer Singh in the role of villain. He is playing the role of Alauddin Khilji, who invaded the fort of Chittor and unlike the previous 2 movies, we will not be seeing Ranveer Singh paring with Deepika Padukone in this movie.
2) Deepika Padukone as Rani Padmini
As the song 'Ghoomer' is out on internet and televisions, Deepika in her red attire looks stunning as Rani Padmini.  After giving critical performances in films like Ram-Leela, Piku and Bajirao Mastani, we are expecting that Deepika will justify the character of Padmavati and this movie will take her career to a new stage.
3) Sanjay Leela Bhansali'

s Direction
The director plays a major role in the movie success and Sanjay Leela Bhansali is a real example of it. As we can see from the movies like Hum Dil De Chuke Sanam, Devdas, Black, Ram-Leela and Bajirao Mastani, Bhansali's direction never disappoints audience and creates a magic in the cinema by raising the bar for everyone. After 2 years he is back with one of his expensive works Padmavati, which surely will be his best creation in the industry. He is referred to as a groundbreaker in the industry and one should never miss his directed movies.
 4) First time Shahid Kapoor and Deepika Padukone will be seen together as a pair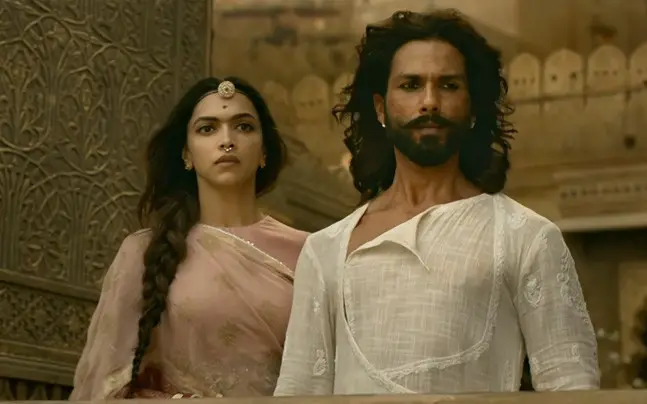 It's not Ranveer and Deepika but Shahid and Deepika who will be seen together romancing in this movie. Shahid is playing Deepika's husband's role in Padmavati which will grab the audience attention. After seeing the successful chemistry between Ranveer and Deepika, everyone is excited to see the onscreen romance between Shahid and Deepika.
5) Traditional Culture
 Since the movie is a story of Hindu Legendary queen Padmini, the movie will be showing Indian cultures and traditions through music, attires, dance, folk art etc.
Very few days are left for the movie to release, Padmavati is gaining popularity from among the audience because of its caste, direction, traditional attires, historical sets, folk arts and cultural music and dance. These reasons can be sufficient in grabbing the audience to cinemas and making it a big hit.