There is loads of hype about iPhone X and iPhone 8 along with iPhone 7 but do you know what is even more surprising to see is that iPhone 6 series still holds its place in the market.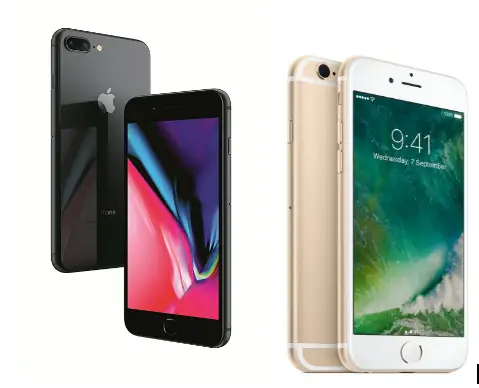 In September 2014, Apple launched the variants of iPhone 6 series, which have been alluring people since then. With minor additions, Apple iPhone 8 and X series have been launched this year in 2017. But are they better? If yes, then why is iPhone 6 and 6s series still has a good market share? Let's find out.
Before jumping onto the reasons, and the benefits of iPhone 6 and 8 series' respectively, let's have a look at the specs of both devices.
| | | |
| --- | --- | --- |
| Specs ↓ | iPhone 6 | iPhone 8 |
| Display | 4.7-inch Retina HD display. 1334x750 resolution. 326 ppi. | 4.7 inches. 1334x750-pixel resolution. 326 ppi. |
| Dimensions | 138.1mm x 67.0mm x 6.9 mm | 138.4mm x 67.3mm x 7.3mm |
| Weight | 129 gms. | 148 gms |
| Storage | 16GB, 32GB, 64GB, 128GB | 64 or 256GB |
| Processors | A8 Chip with M8 motion coprocessor | A11 Bionic chip |
| Front Camera | 1.2 MP photos and 1080p HD video | 7 MP photos and 1080p HD video |
| Rear camera | 8MP camera | 12MP camera |
| Battery life | 1810 mAh. Up to 12 hours. | 1821 mAh. Up to 12 hours. |
| Other features | Touch ID, NFC, 3D Touch | Touch ID, NFC, Wireless charging, 3D Touch; Splash, Water, and Dust Resistant |
| Color variants | Silver, Gold, Space Gray. | Silver, Gold and Space Gray |
#1 iPhone 6 is cheaper.
This goes without saying. As soon as Apple launches a new iPhone variant, the prices of their previous variants go down. You can be an owner of an iPhone, without shelling your pockets out.
On an average today, in 2017, the iPhone 6 and 6s, 32GB variants could cost you $450, while the iPhone 8 worth 64GB storage would cost you around $700-$800. The iPhone X would straightaway cost you a thousand dollars.
If you are looking forward to a refurbished model of these iPhone variants then here are your estimates-
iPhone 6 and 6s, 64GB $430-$450
Buying an iPhone 6 and 6s is definitely going to help save your pockets from burning.
#2 iPhone 6 and 6s variants can give you an additional color.
While the iPhone 8 comes in three color variants- silver, space gray, and gold. The iPhone X comes in only two- Silver and space gray. But if you are looking for something cheap and light for your pockets, as well as in a different color, iPhone 6 and 6s are your choices. The iPhone 6 and 6s come in the rose-gold variant which has its appeal and class. The color appeals to many out there, who opt for unique things in life.
#3 iPhone 6 and 6s would not break.
Unlike the iPhone 8 variants, iPhone 6 and 6s come with metal backs. They are sturdy, durable, and would not break easily. No matter how bulky your protective cases are, your iPhone 8 is more likely to break as compared to these 2014 variants.
#4 Charging capacity is the same.
Both iPhone 6 and 6s as well as, iPhone 8 have the same chargers. This entails, their speed of charging would be the same. To take advantage of the faster-charging facility, you would need to buy extra Apple accessories. If you use a standard Apple charger, for both the variants, you would not see much difference.
#5 Their software are the same.
iPhone 8 runs on the same software as the iPhone 6 and 6s did. In fact, iPhone X runs on the same. You are bound to get the same iOS experience on all these devices, along with the benefits of Apple Ecosystem. You would not get the new portrait mode in your 6 and 6s variants, but as far as other benefits are concerned, your iPhone is going to run smoothly.