In previous articles, we have provided list of best graphics cards for gaming and best game recording softwares, now in this article, we will provide you best CPU for 1440p gaming, or you can say, top processors to use if you are going to buy a pc for gaming and going to live stream your game recording.
Below is the list of Top 5 Best CPU for 1440p gaming: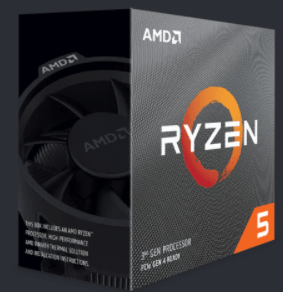 It is one of the bests Mid Range CPU's to buy from. It is a CPU that comprises of 6 cores and 12 threads clocked at 3.6GHz with a boost clock of 4.2GHz. This CPU is capable of high frame rates in fast paced titles as well as light productivity work and makes a great all-rounder CPU.
Pros:
Minimum power consumption
Unlocked multiplier
PCIe 4.0
Cons:
Limited manual and auto-overclocking headroom.
Specification:
Architecture: Zen 2
Socket: AM4
Cores/Threads: 6/12
Base Frequency: 3.8GHz
Top Boost Frequency: 4.4GHz
TDP: 95W
It features hyperthreading similar to the other Ryzen 3rd gen processors and has a base clock of 3.6GHz with up to 4.4GHz of boost clock. It is a fine choice with ample power and performance in a good value package.
Pros:
It has 8 cores and 16 threads, making it one of the bests when it comes to multi-threading computing power.
Can deliver ultra-fast 100+ FPS performance in the world's most popular games
4.4 GHz max boost unlocked for overclocking 36 MB of game cache DDR4 3200 MHz system memory specification
Built on a 7-nanometer manufacturing process and uses the latest architecture from AMD.
Bundled cooler
Cons:
Limited overclocking headroom.
No integrated graphics
Specification:
Architecture: Zen 2 (Matisse)
Socket: AMD Socket AM4
Cores/Threads: 8/16
Base Frequency: 3.6GHz
Top Boost Frequency: 4.4GHz
TDP: 65W
The purpose of this processor is to leave no performance on the table and dominate the 1440P 144Hz gaming space without being too costly.
Pros:
Lower per-thread pricing
High-End air cooler
High overclocking headroom
Cons:
Requires new motherboard
Not much faster than Core i5 (in gaming)
Specification:
L3 cache:16
Cores/Threads: 8/16
Base Frequency: 3.6GHz
Top Boost Frequency: 5GHz
TDP: 125W
This is one of the finest game CPU with excellent clock-frequency, but it comes with high price.
Pros:
Comes with 10 Cores and 20 threads, making it excellent for gaming.
Supports DDR4 RAM with upto 128 GB RAM
High overclocking headroom
Comes with Intel UHD Graphics 630
Cons:
Specification:
Cache:20 MB
Cores/Threads: 10/20
Base Frequency: 3.70GHz
Top Boost Frequency: 5.4GHz
TDP: 125W
12 cores to power through gaming, streaming and more.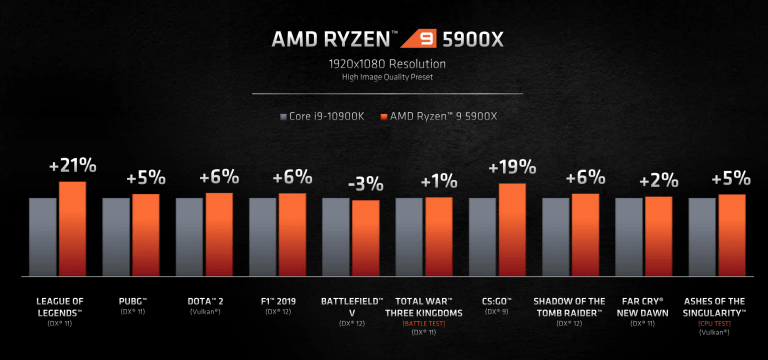 Source:PCMag.com
Pros:
Comes with 12 Cores and 24 threads, making it excellent for gaming.
Supports DDR4 RAM with upto 128 GB RAM
Compatible with Socket AM4
Low TDP as compared to Intel i9-10900K
Cons:
No bundled cooler
High price, if bought for gaming only
Little overclocking headroom
Specification:
L2 cache: 6MB
L3 Cache: 64MB
Cores/Threads: 12/24
Base Frequency: 3.70GHz
Top Boost Frequency: 4.8GHz
TDP: 105W