All of us love customizing our wallpapers and themes once in a little while and we all know the steps to do it and it is easy too. But did you know you can customize your Login screen background too? Well in this case if you didn't know then we will help you out. In fact, here we'll explain how to change windows 10 login screen background just by following some very basic steps. It'll just take around a moment so let's begin:
Steps To Change Windows 10 Login Screen Background
In previous versions of Windows 10, you can change the background of the login screen to a great and vibrant color by using the Windows registry. But to add a picture to your background, you'd to install and use different apps. With Microsoft's Anniversary update, now users can natively change Windows 10 login screen background with great ease.
Now with this particular update, you are able to choose the Windows 10 login screen background which is based on 3 options. Windows Spotlight is the default pair of automatically changing pictures given by Microsoft. If you wish to use your personal picture or group of visuals for a background slideshow, Windows 10 has you covered here too. Just follow the below steps and get started:
Step 1: From the Desktop, type Settings in the Search bar or right-click on empty space of the desktop home screen and open the Personalization menu directly through the context menu.
Step 2: From the search results, choose and click on the Setting icon option.
Step 3: From the newest Windows Settings pop-up window, select the Personalization option
Step 4: From the following screen, go through the Lock Screen option from the sidebar towards your left
Step 5: Enable the choice: Show lock screen background picture on the sign-in screen" with the toggle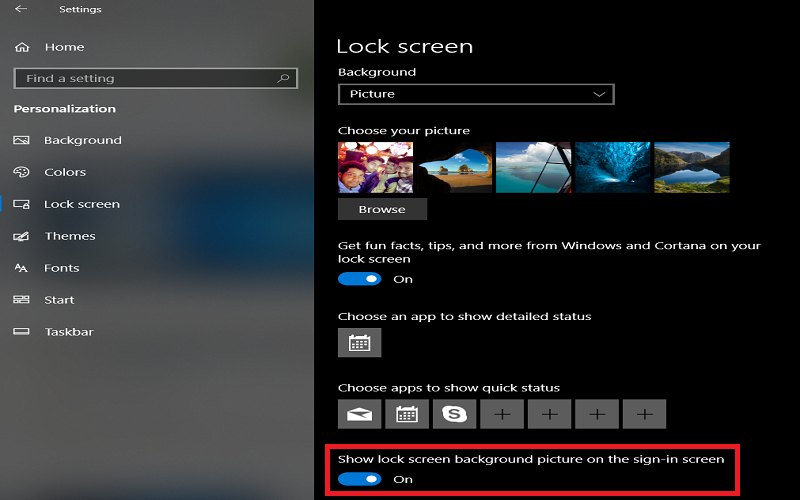 Step 6: Now choose the option between Windows Spotlight, Picture or slideshow and browse for the visual you want. Remember that the visual you choose here is likely to be shown in your lock and login screen of your Windows 10.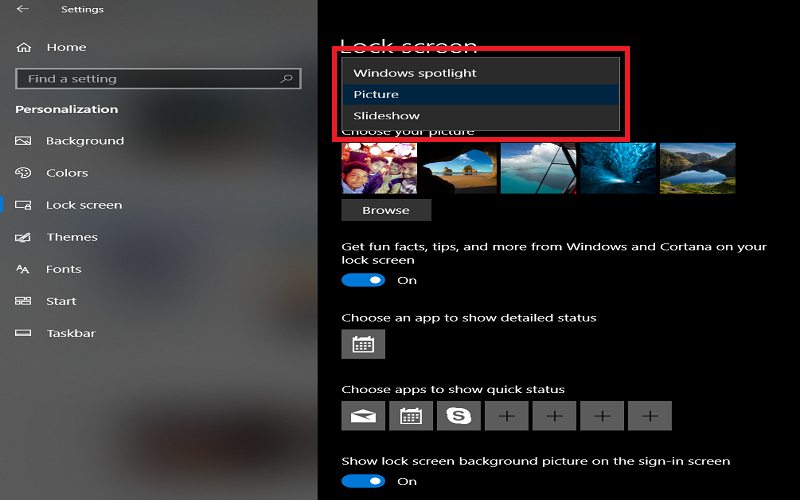 Step 7: Just in case if you want a solid color as the background image for Windows 10 login screen, disable the option Show lock screen background picture on the sign-in screen and then in the Personalization setting window, you have to select the Colors option and select one from the color palette.
Step 8: Save your valuable settings and your changes are going to be reflected on the login screen
It was pretty easy, wasn't it?
So there is a reason why Windows 10 is known as the most user-friendly OS. Microsoft, through its anniversary update, has actually managed to make things very easy for Windows 10 users to change Windows 10 login screen background with an image or slideshow by using Personalization settings. Where once users could customize and enhance the things with the desktop background change, now exactly the same will be done for the Windows 10 login screen background to give the personal touch.
Summary
So, that's how you can actually change Windows 10 login screen background. Also, read "How to Create iCloud Account' and "Top 10 Best Music Apps For iPhone." Thanks for reading this post.