In previous post, we have explained How To Free Up Disk Space In Windows 10 (Various methods), but If you are running Windows, and have been using it from some years, then there are chances that you might have lots of duplicate files on your PC, so in this article, I am going to provide you list of duplicate files finder or duplicate file remover applications and also provide you step by step guide to find duplicate files and remove them.
Find and Remove Duplicate files in Windows
Let's start by finding duplicate files using Free tool: dupeGuru.
We are using dupeGuru for finding duplicate files because it is free to use, you can also use CCleaner free version, but I thought to gave try to complete free tool, which is new but completely free and cross-platform application. It can scan either filenames or contents. The filename scan features a fuzzy matching algorithm that can find duplicate filenames even when they are not exactly the same. 
So, once you have downloaded and installed dupeGuru you can open it and see output like below.
To search for duplicate files or folder, you would have to Click on "+" icon, then select "Folder" and begin search by clicking "Scan".
Once you have selected the folder and started to "Scan", you will see duplicate files inside that particular folder.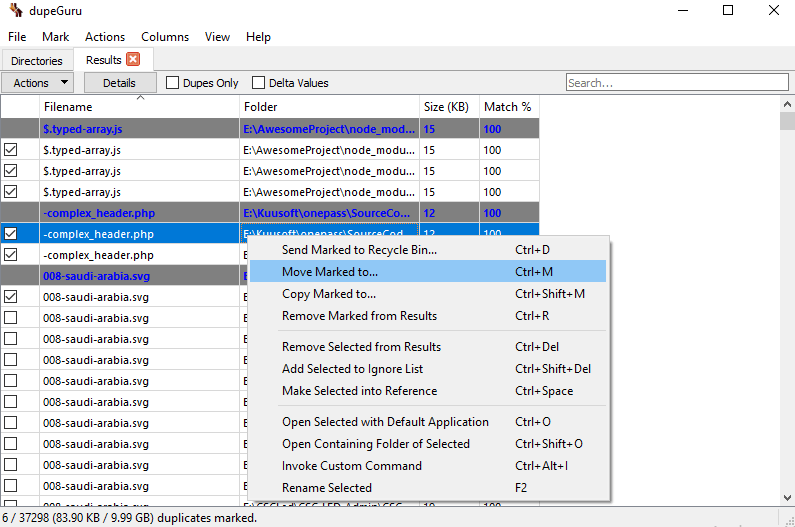 In the above image, you can see we dupeGuru has found around 9.99GB of duplicate files, you can remove these files and mark them to "Send to Recycle bin" to delete them.
Other Free Softwares (Tools) for Find and Remove Duplicate Files From Windows
Above we have already mentioned how to find uplicate files using dupeGuru, but you might still want to check more softwares available on internet, so here is the list:
AllDup is a freeware tool for searching and removing file duplicates on your Windows computer. The fast search algorithm find duplicates of any file type, e.g., text, pictures, music or movies.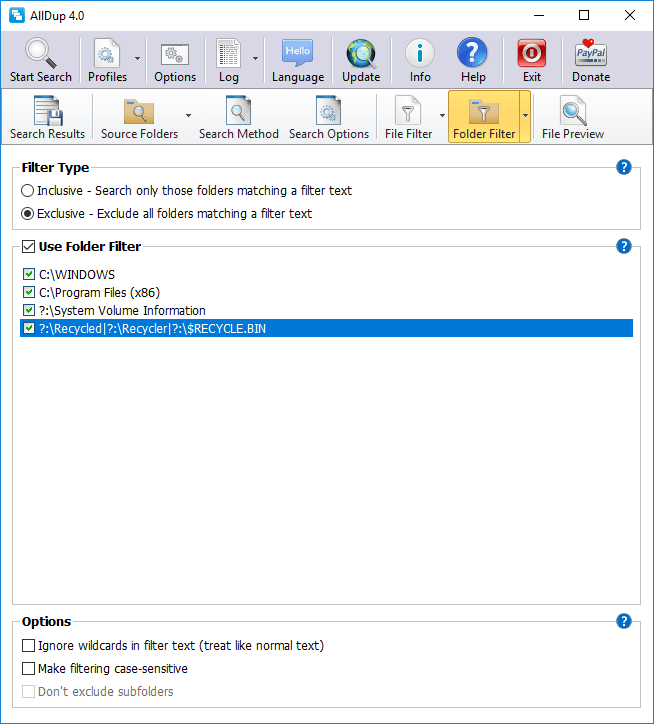 Features:
Find and delete duplicate files!
Convenient search result list
Save and restore the search result to continue working later
Clear your computer, music or photo collection from duplicate files!
List non-duplicate files
Search for similar pictures
Find files with similar names
Entire folders or individual files can be excluded from the search by masks or size conditions
Find duplicate photos
Search inside archives with the following files extensions: 7Z, ARJ, CAB, CB7, CBR, CBT, CBZ, EPUB, GZ, ISO, LZH, LHA, NRG, RAR, TAR, ZIP
Auslogics Duplicate File Finder will help you locate and remove useless file duplicates to free up disk space and better organize your file collections. You will have full control in being able to look through the list of duplicates and decide which copy to keep.
It used Modern UI and searches duplicates files quickly.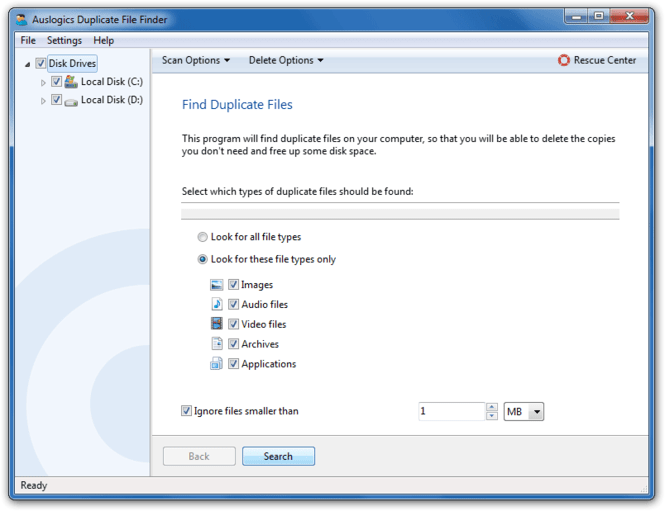 Features:
It is totally free with no term limitations for home or commercial use. 
It uses intelligent algorithms to compare not only file names, but also contents to ensure no false search results.
You can specify the file types to look for, then go through the search results and decide which copies to delete.
Compatible with Windows 7,8 and 10
The Free Fast Duplicate File Finder will find duplicate files in a folder, computer or entire network. The application will compare the content of the files and will find duplicates even if they are using different file names.
The duplicate remover uses fast binary comparison algorithm and has internal preview supporting a lot of image, video, music and text file formats. It can also preview the common file formats.
Features:
Fast binary comparison algorithm
Duplicate files can be moved to Recycle Bin, custom folder or deleted permanently
Internal preview supporting images, videos, music, text and binary files
Multi-language file system support
Support all types of removeable medias - usb drives, diskettes etc.
Pro version offers to detect similar files, various search filters, exclude options, export results & more.
Anti-Twin is a small software application which compares files, i.e. it searches for duplicate or similar files on your hard disk drive. All similar or identical files that were found can either be sent to the recycle bin or directly deleted. Which will increase the hard disk space on your computer.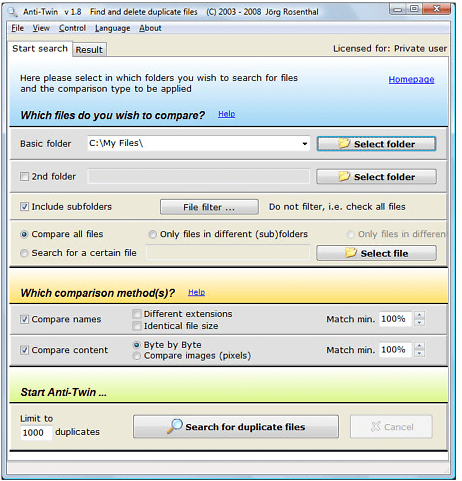 Features:
Easy to use.
Search process is speedy.
System files can be excluded.
Helpful search suggestions.
Can search images and performs unicode searches.
You may also like to read: