In a recent article, we have explained how to improve windows 7 speed using simple steps, now in this article, I am going the basic problems which I face with my slow laptop &  solutions which I have used to speed up the laptop whether it's Windows 10 or Windows 7 (I haven't tested this on Mac but Mac users can try these points, if they imply on Mac)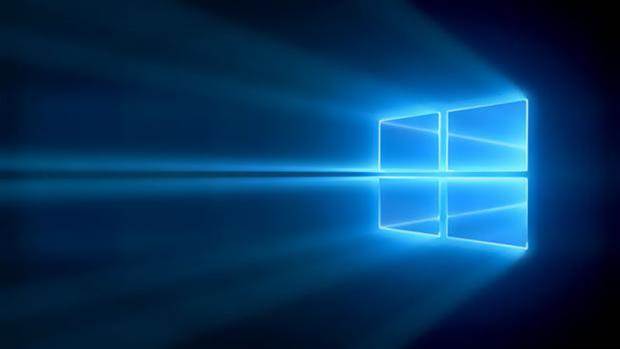 Turn off background apps
In addition to the programs you can see, your laptop also runs a variety of programs in the background. These background processes continue to receive information (and use memory) even when you are not using them. Turning off these programs can help speed up your laptop.
Select "Start", then "Settings".
Click "Privacy" and select "Background Apps".
Identify the background apps you don't want to run and slide the toggle switch to "off". If you want to use these programs, you can open them manually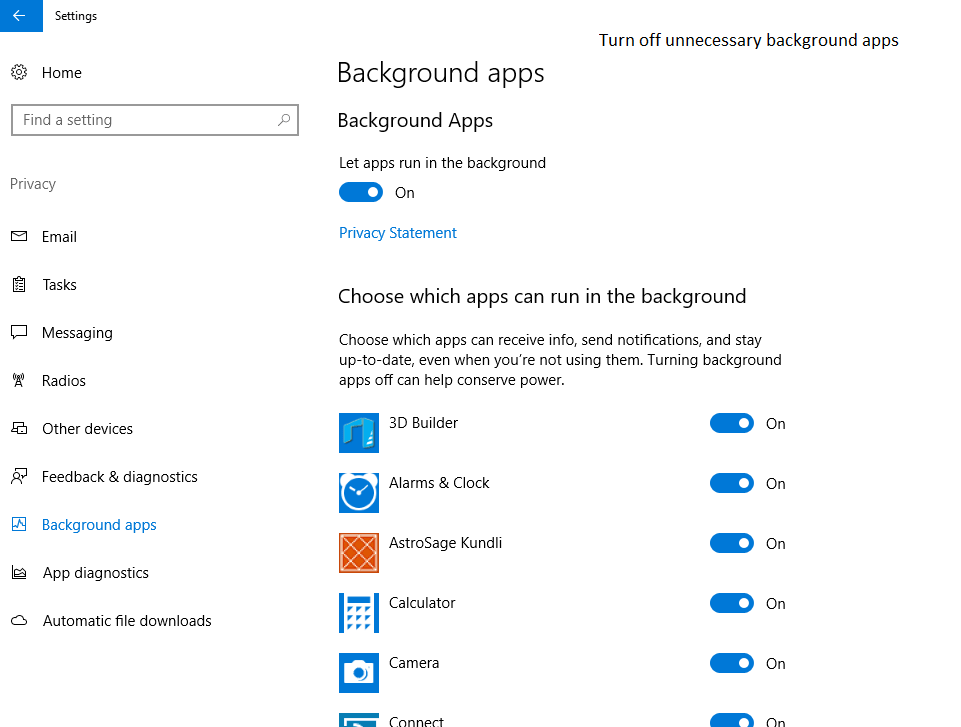 Blocking Start-up applications
There are lots of applications that start along with the windows and keep running in the background. We need to disable all such applications.
Press Ctrl+Alt+Del 
Select Task manager -> go to the startup tab & disable all the apps which you don't need on starting windows and can run them manually when needed.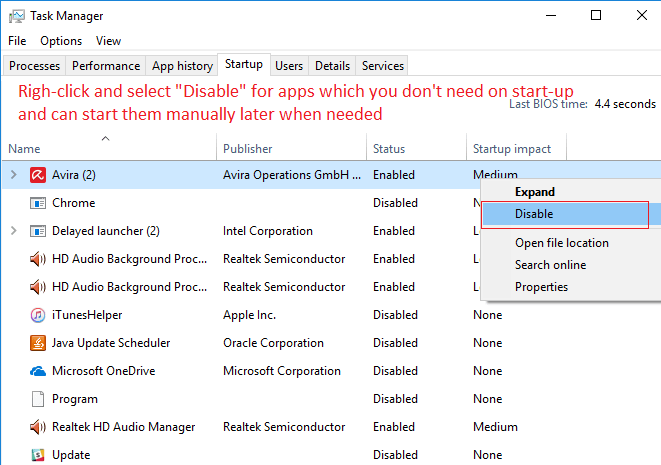 Clean out your hard disk
If you've got a bloated hard disk filled with files you don't need, you could be slowing down your PC. Cleaning it out can give you a speed boost. Windows 10 has a surprisingly useful built-in tool for doing this called Storage Sense. Go to Settings > System > Storage and at the top of the screen – in the Storage Sense section – move the toggle from Off to On. When you do this, Windows constantly monitors your PC, and deletes old junk files you no longer need; temporary files; files in the Downloads folder that haven't been changed in a month; and old Recycle Bin files.
You can also customize settings to free up space automatically using Storage sense in windows 10, click on "change how we free up space"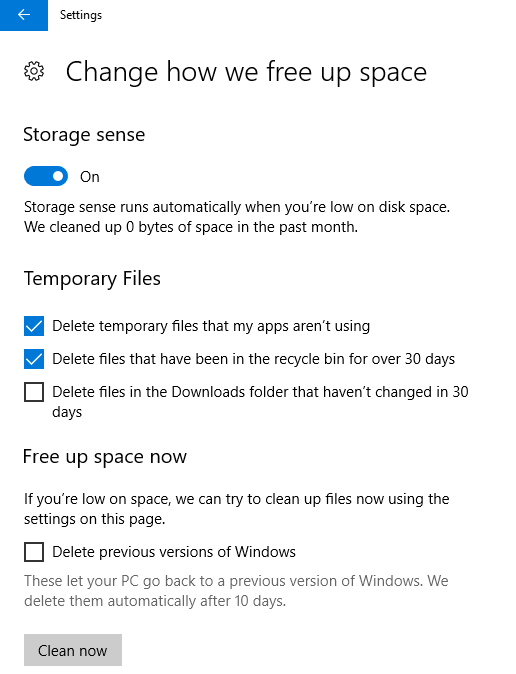 Clean up the primary partition
Click "Start" type "cleanmgr" and press "Enter" key. Select your  primary partition ( Windows installed drive, in most cases C:/ drive)  and scan it for junk files. After few seconds, it will show a list of  unnecessary files and simply select all these check boxes and start  cleaning your drive(this step is similar to above explained process but valuable if you are using older version of windows like Windows 7)
Run "De-fragment" on all hard drives
Right-click a drive icon in "My Computer" and select "Properties"  followed by "Tools". Choose "De-fragment" to let the utility clean up  fragmented files and consolidate free space on the drive. Note: this is  not needed on an SSD drive. Defragmentation should be done at least once  per week, or more often if the PC is used heavily. Some versions of  Windows allow for the scheduling of this utility, and in those cases  could be set to run automatically without ever having to manually run  again. This process may take anywhere from several minutes to an hour or  more to complete depending on size of the drive(s) and amount of unused  capacity or free space. Consider starting the defragment process so  that it will run over night or prior to logging off. After completion  the speed of hard drive read and write times may improve significantly.  There are also stand-alone defragmenting programs available from other  developers available for download that may or may not charge a fee for  use. A very good example of a free defrag program that allows automatic  and scheduled defragmenting is IOBit's Smart Defrag 2. 
Warning: Defragmenting an SSD may yield no performance gains, and can actually damage the SSD.
Turn off special display effects
Windows 10 has several display enhancements (such as shadows and dynamic lighting effects) that can cause significant slow-down on older or lower-end PCs. You can disable them by following below steps
Click on Start icon, search for "View advanced system settings"

Select "View advanced system settings", then select "Advanced "tab
Click Settings... below the "Performance" heading
Click the Visual Effects tab.
Check the "Custom:" box.
Uncheck every box on this page.
Click Apply, then click OK

Go Opaque
Windows 10 transparency will cost you some resource, so we need to re-claoim those resource by shutting down effects. You can disable transparency in the Start menu, taskbar, and action center: Open the Settings menu and go to Personalization > Colors and toggle off Make Start, taskbar, and action center transparent.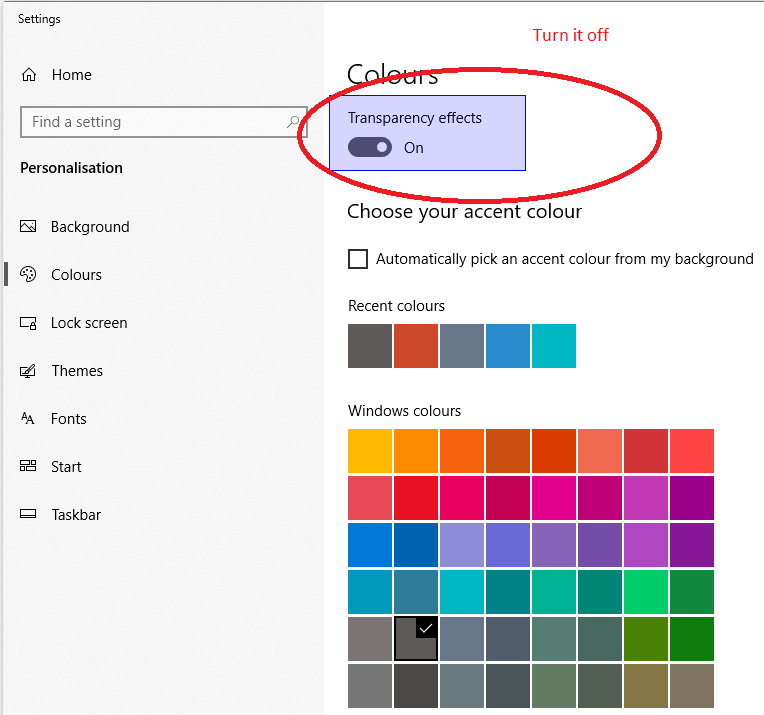 Turn off syncing to OneDrive
You can save files on your PC or to OneDrive by default and sync files between the two locations. This lets you get to your files from any device that can connect to the internet, and it helps make sure your files are backed up in case your PC is ever damaged or lost. However, files must sync between your PC and OneDrive, and syncing can slow down your PC. You can pause OneDrive syncing temporarily and see if it helps improve your PC performance.
On the taskbar, look for OneDrive  near the notification area.
Select OneDrive  > More  > Pause syncing, and then choose how long you want to pause syncing your files.
Restart your PC and see if your performance issues have improved with syncing paused.
To resume syncing your files, select OneDrive  > More  > Resume syncing.
Change your power settings (if you are on laptop)
In Windows 10, we have been provided with power options like in windows 10/8, but by default Windows 10's apply power saver plan, which is, in turn, slowing down your laptop/pc. That plan reduces your PC's performance in order to save energy. (Even desktop PCs typically have a Power saver plan.) Changing your power plan from Power saver to High performance or Balanced will give you an instant performance boost.
To do it, launch Control Panel, then select Hardware and Sound > Power Options. You'll typically see two options: Balanced (recommended) and Power Saver. (Depending on your make and model, you might see other plans here as well, including some branded by the manufacturer.) To see the High-performance setting, click the down arrow by Show additional plans (this may change depending on your windows & manufacturer company)
If you are using Windows 10 you can also change your battery performance using TaskBar, as you see in the below image, I am using maximum performance settings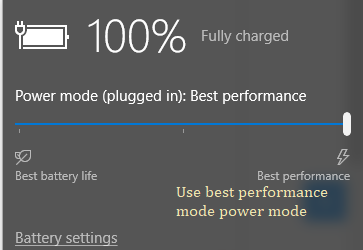 Run scan for viruses
Viruses can slow down your computer and prevent you from using certain programs. By scanning with the built-in Windows Defender antivirus program, you can identify and remove viruses on your computer.
Uninstall unnecessary programs
We all have some programs in our system that we never use. On the other hand, some of the time, the manufacturers also provide some programs which may not be necessary for you. Moreover, the paid apps may be unusable after a trial period and you will forget them after some days. These apps take a lot of space on your disk as well.
You can uninstall these unnecessary apps from your Windows to speed it up, for this, follow these steps
Click on Start
Search for "Control panel" & select it when it appears in search
 Click the Uninstall a program link (or click Programs and Features if you see a list of icons on this page).
Find a program that you want to remove, then click it to select it
Click Uninstall or Uninstall/Change for that program & wait until windows remove's it.
Repeat this process for any other unneeded programs.
Hardware adjustments
Note: Proceed carefully, A lot of the tips in this  section involve pushing your hardware beyond their standard limits.  While small adjustments usually won't have any negative effects, going  overboard can significantly damage your components.
Check your computer's temperatures. If your computer is overheating, then chances are the hardware is not  running as well as it should. One easy way to help lower temperatures is  to increase the speed of your computer fans. The drawback to this is  potential increased noise and fan failure.
Use the SpeedFan program to both monitor your computer's temperature and change the various fans' speeds.
Overclock your memory.  You can sometimes increase your memory bandwidth to improve your  computer's performance. The drawback is potentially damaging your RAM.  To change the bandwidth, open your BIOS menu and look for the RAM  Frequency option. Not all RAM can be increased, and it may have a  negative impact on your system. Always check temperatures when  increasing the frequency.
Overclock your processor.  this is a pretty involved process, but if you have the right hardware  and good cooling you can see significant performance increases.  Overclocking can greatly increase the chances of hardware failure if not  performed correctly. See this guide for detailed instructions on overclocking most PCs.
Other Tips
First, of all if you have tried all the above methods(excluding hardware adjustment's ), you can try to Re-install windows in your laptop by taking backup of your windows important files and softwares.
If you are have bought a laptop/PC 5-6 years ago, it may run you new windows/softwares but that doesn't mean that it will do it very well. Keep in mind that the Minimum System Requirements on the software box is indeed, minimum. The best experiences usually require that the system is configured to Recommended System or better,  instead.So if this is the case, you may need to upgrade your laptop or PC depending on your needs.