If you are graphics developer or new to graphics and your company wants you to create a new motion graphics, then in this article, we will provide you list of best free and easy motion graphics softwares which you can use to complete your project.
What is Motion Graphics?
Before we begin listing Motion graphics, let's understand what is Motion graphics first.
Motion graphics, or motion animation, is a style of video which involves computer animations but with text as a major component, illustrations, and/or typography as the primary techniques for creating what you see in a video. 
Using motion graphics as a combination of 2d or 3d graphics with audio behind graphics explaining things about the main concept, provides your message to viewers more easily than any other way.
Best Free Motion Graphics Softwares for beginners
Let's take a list of available animation softwares which can be beginners freindly and free to use also.
OpenToonz is one of the best 2d animation software which is available for free and beginners friendly also. OpenToonz can be used free of charge for both commercial and non-commercial projects.
Features:
Free to use
Cross platform, can be used on Windows, Linux or Mac
Vector and bitmap drawing tools are available
More than 100 composite scenes like lightings, blur etc 
Special animation effects
You can also use scripting language like ECMA
Adjust frame by frame animation
Compatible with both raster and vector images
Localized Japanese version available.
Compatible with 4 types of scanning.(black & white, colored, with or without binarization)
It is possible to use more Fliming effects by using plug-ins.

Blender is the free and open source 3D creation suite. It supports the entirety of the 3D pipeline—modeling, rigging, animation, simulation, rendering, compositing and motion tracking, video editing and 2D animation pipeline.
Features:
Create jaw-dropping renders thanks to Cycles, high-end production path tracer.
Extensive modeling toolset (sculpting, retopology, modeling, curves).
Designed for animation, Blender is being used for award-winning shorts and feature films.
Push the boundaries of Story Art and 2D concept design, right in Blender's 3D viewport.
From camera and object motion tracking to masking and compositing, you can "fix it in post".
Simulations: Whether you need a crumbling building, rain, fire, smoke, fluid, cloth or full on destruction, Blender delivers great looking results.
Featuring an extensive Python API, every tool is available for scripting and customization.
Because of its custom architecture, Blender's UI, window layout and shortcuts can be fully customized.
The Video Editor offers a range of basic yet very efficient tools.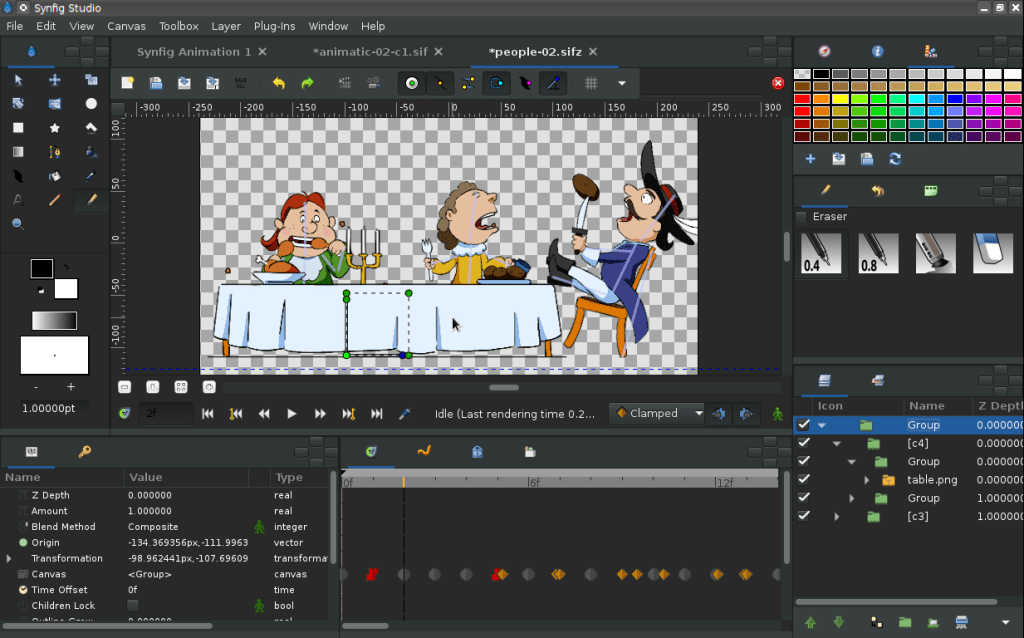 Synfig Studio is an open-source 2D vector animation software works in Windows, Linux or  Mac OS. It is designed to produce film-quality animation with less people and resources.
Synfig Studio is built to eliminate the need to draw each frame individually. There are two techniques for that:
Morphing animation
Cutout animation
Features:
Transform any vector shape into another. Synfig gives you powerful tools for full control on your vector artwork. Just set the key positions and inbetween frames will be calculated automatically.
Layer and Filters: Synfig provides 50+ layers to create artwork and animation of any complexity.
Full-featured bone system allows to create cutout animation using bitmap images or control your vector artwork.
Advaced Controls: You can link parameters of various layers – directly or through mathematical expressions. This allows you to create advanced character puppets and other dynamic structures
Supports 4 Languages: English, French, Russion and Deutsch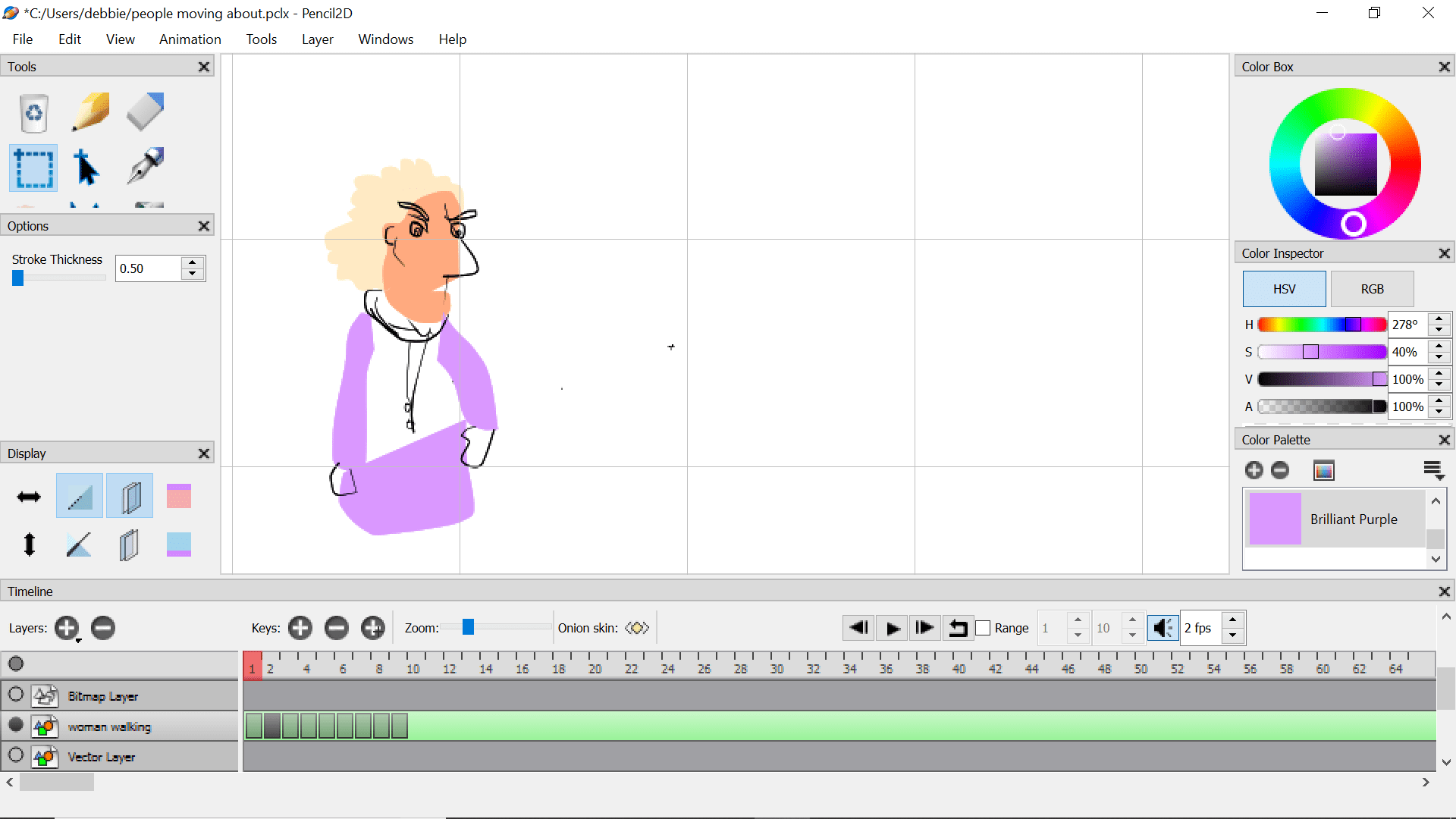 Pencil2D animation software allows users to create more traditional, hand-drawn scenes. It is very simplistic 2D animation software.
The UI and design are very minimal and convenient to use, making it simple from beginners to professionals alike.
Features:
A lightweight and easy design interface, so you can focus on animating.
Seamlessly switch between raster and vector workflows, allowing you to sketch, ink & paint on the go
Pencil2D is cross-platform and runs on Windows, macOS, Linux & FreeBSD.
Pencil2D is completely open source and free to use, even commercially!
5. KeyShot (Free trial)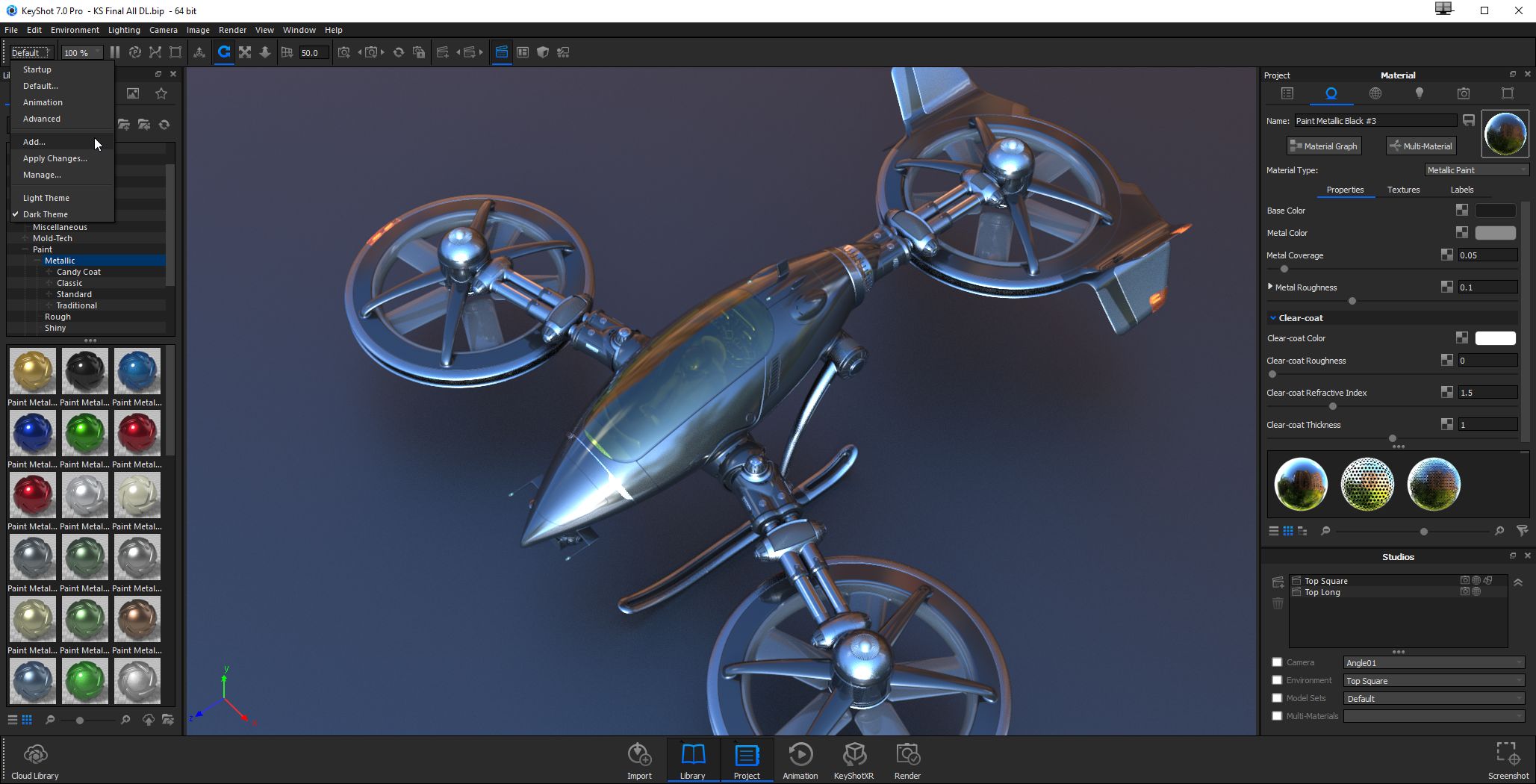 KeyShot is extremely easy to learn and it brings you real-time 3D rendering that displays results instantly and reduces the time to create realistic product visuals. 
Features:
KeyShot is extremely easy to learn and use to achieve photographic results in minutes through a simple, workflow-based interface with all the advanced capabilities for the most experienced 3D render professional.
KeyShot brings visual speed and agility to the entire product development process
Materials go beyond physical appearance providing scientifically accurate properties for the highest quality visuals.
By using NVIDIA Graphics or CPU, gives you unmacthed performance.
Advanced lighting capabilities that create the most accurate lighting for simple studio shots or the most complex interior lighting.
Shows results in Real-time.
Add area, point, IES or spotlights by applying a light material to any piece of model geometry.
More than 60 high resolution HDRI environments or edit to create your own with KeyShot Pro.
Over 700+ material presets from architectural, cloth, glass, and gem to liquids, metals, plastic, and wood.
Access to textures for bump, color, displacement, IES light profiles, OpenVDB, roughness, labels and more.
You may also like to read:

Best Graphics Cards for Gaming