In previous article, we have provided list of best browser Antivirus, but do you know that 82% of computer user all over the world depends on windows OS to run their PC. Why shouldn't they? Windows provide the most user-friendly interface along with a bunch of features which are needed to provide a smooth computing experience. Besides, there are thousands of software and games to help you in work and entertainment. As everything has an opposite side, the windows also have its own. There are more than 60 thousand known viruses on windows operating system. Some of them are too powerful that they can instantly destroy the hard disk of your computer. Every windows user know how much pain it becomes when a simple virus take over the PC.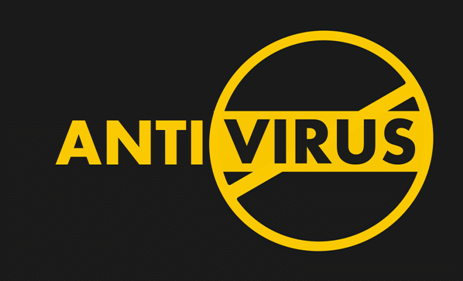 A decent antivirus is must to keep your computer safe from all kind of threats. However, most of the antivirus software actually doesn't work whether they are paid or free. A good antivirus must have the ability to prevent Trojans, botnets, etc. and most importantly ransomware. Besides, it must provide you a real-time malware protection. They will prevent you from browsing the malware affected sites. Here, we have listed The 5 Best Free Windows Antivirus Software of 2018 that will ensure the 100% safety for your computer.
Below are 5 Best Free Windows Antivirus Software
The below-listed antivirus sofwares are some of the best of the current time. They will provide you the best result to stay safe on the internet. Most of them can also come with additional security features like password manager. Download one of them and stay tension free about the security of your computer
The Avira antivirus is the best free antivirus of the current time. It will provide you real-time protection with its unique features "in-cloud-detection". This feature instantly stops the malware and takes control of it before it becomes uncontrollable. As an example, when a malicious file get detected on any computer that has an active Avira antivirus, a copy of the malicious file directly sent to the Avira server and the programmer check this file and if it is harmful they sent a report to all of the users of this antivirus to take necessary action.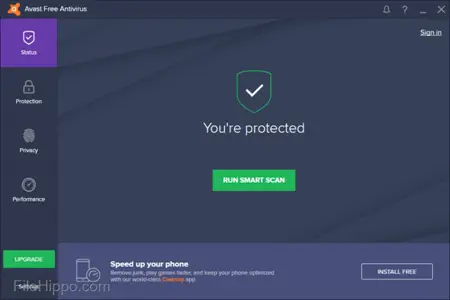 Key Features of Avira Antivirus:
You can schedule scan in it.
It can check all kind of available file extension.
Adjustable scan priority levels.
It can scan the windows registry and boot sectors.
At first, it finds out the rootkit before start a scan.
Take action for threats automatically.
Several levels of security.
Include VPN, Password Manager, and software updater.
It can reduce boot up time to increase your PC speed.
The antivirus has so many extra features that you may feel annoyed. But you always skip them when if you want.
If you are looking for antivirus software that is easy to use and powerful at a time, then you can go for Bitdefender. It comes in a simple elegant design which only gives the thing that they want. The simple interfaces of the app which doesn't include a bunch of unnecessary features help the users to use the app comfortably. Moreover, the Bitdefender not only keep your PC safe from the virus but also provide anti-fraud and anti-phishing protection when you are browsing the internet. The interesting thing about the Bitdefender is it continuously searches for newer threats. So, you actually don't need to turn on the scan every time. It also allows you to get rid of scheduling the scan.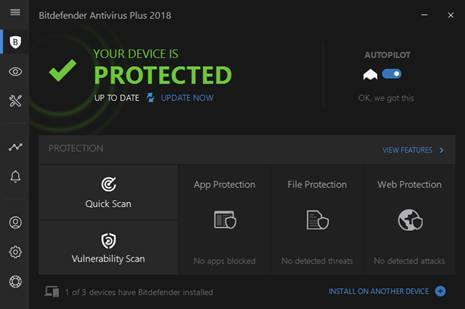 Another amazing feature of the Bitdefender is you can simply drag and drop any file from the hard drive to the antivirus for screening it manually. You can scan the whole PC or just a file with it. The main issue about the Bitdefender is you cannot control a scan. That means when you start a scan, you will not be able to pause it before its end. The software does not allow the user to do much customization. However, it happens because the developer wanted to make it just efficient for scanning and nothing else. 
Key Features of Bitdefender:
It has a very simple design with a positive attitude.
Easy to use for all kind of user.
Drag and Drop file scan.
All-time active threat protection.
Take a little RAM to run.
Adware antivirus is great for those who want a free and light size antivirus. It has an easy download system and you can download it within a short time. The website has two ways to detect threats on your pc. The regular way will help you to use it as the main antivirus of your pc. Another way will let you use it as the second antivirus along with the main antivirus of your pc. However, when you will use it as the second antivirus, the real-time protection will not work. You can scan manually when you are using it as the second antivirus. It will help you to ensure the extra security of your pc.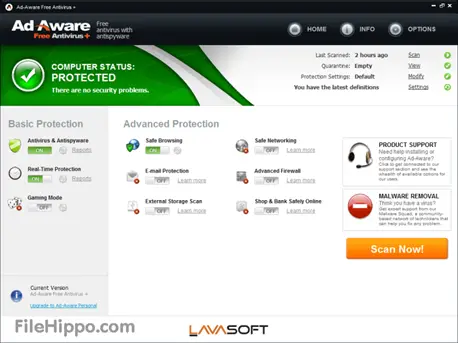 There are three types of the scan in the Adware and they are quick, custom, and full. You can use the one that you need. Besides, you can also schedule the scan as per your need. The adware may be a small light size antivirus but it can give you protection against all kind of threats like virus, malware, spyware, and ransomware.
The Key Feature of Adware:
Scan archive and email files.
Strong security for browsing protection.
User-friendly interface for easier use.
Check all kind of files at the time of scanning.
Also, check the boot sectors.
It can skip the formerly scanned files.
The Avira Antivirus is one of the most popular antiviruses of the current time and it is used by millions of people all over the world. Avira Free Antivirus has a proven result of protecting from all kind of threats. Along with a solid antivirus, Avira offers much more features to ensure the user's safety and comfort. They also offer extra components for other services, apart from the virus protection. You can relate the Avira antivirus with Avira. Both of them have a lot of extra features and let the user allow customizing the features. In Avira, you can use the components you need and you can shut down the others. The antivirus offer Password manager, VPN client, Wi-Fi inspector, disk rescue, browser cleaner, mail shield, junk cleaner, game mode, and much more features. You can select and deselect the component you need at the time of downloading. However, all the components are helpful for your computer and you should install them too if it has spaces.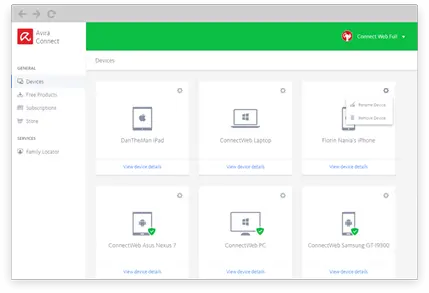 The software updates it automatically to keep your PC safe from all kind of newborn threats. Just download and install the application for once, enjoy the protection up to the time you need. The interesting thing about the antivirus is, it allows you to control everything from the notification to the threat removing. You can even select a specific file to ignore at the time of scanning. The Avira free antivirus is available for all the version of Windows operating system.
Key Features of Avira Antivirus:
Custom scans to check a particular file or disk.
Schedule scan for up to 1 month.
Helpful components for your pc.
It can scan even the archived files like RAR, 7z, iso, etc.
You can save your custom settings for further use.
A password manager to give you a hassle free browsing experience.
Panda Free Antivirus is a great antivirus which can give you instant security to your computer. The Panda Free Antivirus is a very small and light-weight antivirus that doesn't put any pressure on your CPU. It has simple features that are mostly needed for a secure pc. So, you will not need to be overwhelmed by irrelevant features as like as other antivirus software.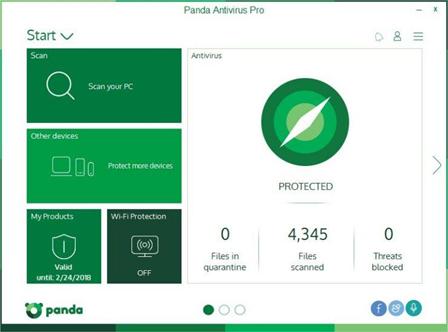 Thought the software is small but it has very powerful features. The virus scanner provides a real-time scanning to keep your pc safe from all kind of practical threats. It also has some options to as like as behavioral and analysis scan. The virus scanner can detect a virus within no time and it can block the virus detected file from running on your pc. The antivirus can also let you know the effect of the virus on your files.
The interesting thing about the software is it can complete the full scan within a short time. Besides, you can select the file that you want to scan instead on scanning the full directory.
Key features of Panda Free Antivirus
Lightweight but strong scanner.
Automatic full scan along with manual and partial scan.
You can protect the setting of the app with a password.
Automatic USB Protection.
You can export the report as a txt file into your computer.
The above-mentioned softwares are the best free Windows antivirus software of all time. They are free but have enough specification to terminate all kind of threats from your computer. If you have any question about them, please let us know by comment.
You may also like to read: