In previous article, we have mentioned Best PDF Comparison Tools and Free Adobe Photoshop Alternative, but in this article we have mentioned how to unlock PDF to print, as some PDF are locked for it.
Many times people secure their PDF documents to prevent it from any unauthorized access. Files can be secured by two methods one is by adding password and other is by applying restrictions on it. However, there could be any restrictions applied to PDF i.e. copy, edit, print, comment, sign, etc. According to the user's need, restrictions can be applied to a PDF file. But, we need to remove print security from a PDF file so that we can use it. Therefore, it is suggested using any reliable application to unlock PDF to print. So, here in this post, we have described the top 3 tools which let users unlock secured PDF to print.
1) SysTool PDF Unlocker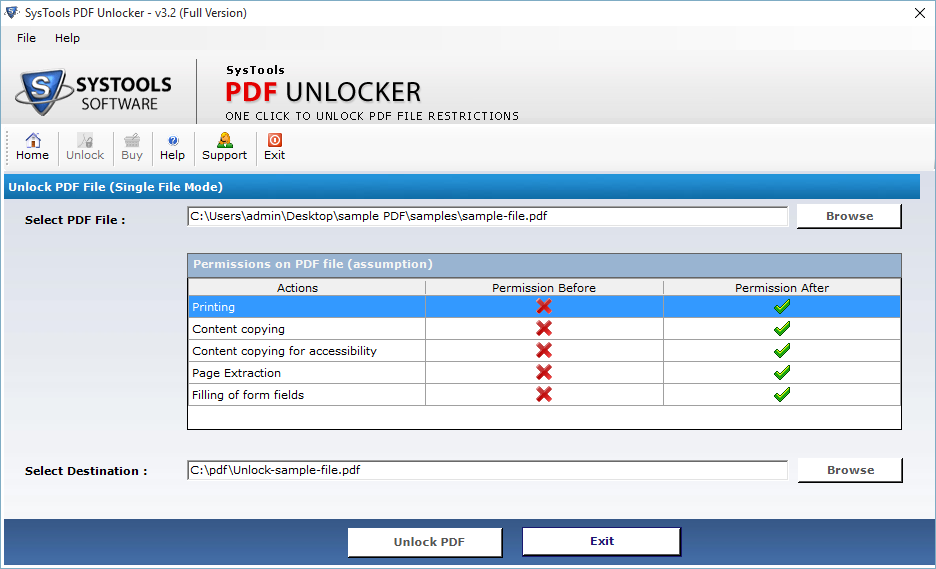 SysTools PDF Unlocker Tool is among the best PDF security remover tools to remove security from PDF documents on Windows Operating Systems. The features of the tool are unique which makes users use this application. The tool allows users to remove security restrictions from PDF documents i.e. copy, print, edit, sign, extract, etc. It comes with a simple and easy graphical user interface. Moreover, if the file is protected by password security then, it can also remove it. But, initially a user should provide the password and then, the tool will unlock PDF document and make it password free. Overall, it is the most reliable application with best features.

Know How this Tool Removes Print Security from PDF File

In order to unlock a secured PDF to print a user should follow these simple steps:

Firstly, install and run the application
Click the Unlock button showing in the top menu bar
Click the Browse button and select the PDF file that you need to unlock. Click on Open
Preview the associated permissions of the PDF document
Click Browse button and select destination location to save unsecured PDF File
Click on the Unlock PDF button
If the file is password protected, enter it otherwise continue further
Now, the file gets unsecured, after that click the OK button.
Lastly, a comparison is shown to a user showing the removal of all restrictions in PDF
2) Smallpdf Unlock PDF Tool


Another best solution to remove print security from PDF files is by using Smallpdf Unlock PDF tool. It is the online solution to unlock secured PDF to print. The tool comes with some excellent features that make users carry out the process in an easy way. The basic features of this online application are free to use but to access advanced features of the tool user has to invest money.

Know How this tool Unlocks PDF to Print
Select PDF file for unlocking
Drag and drop the PDF document
Then, check the Terms & Conditions
Hit, Unlock PDF button

Download the unsecured PDF
3) SoftSpire PDF Security Removal Tool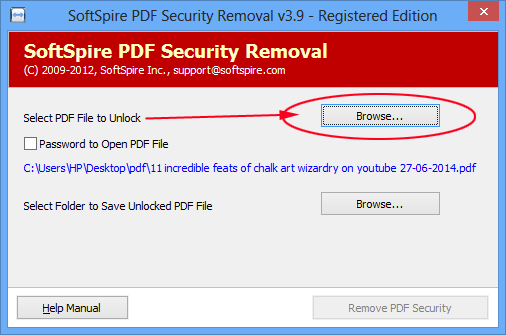 It's another tool among best PDF security remover for windows. This application allows the user to print, edit or copy PDF by removing restrictions from it. The tool supports Adobe Acrobat 11.0 or below version of PDF file. It preserves the content quality and originality when it removes print security from PDF files. Overall it is a great utility.

Know How this tool Unlocks Secured PDF to Print
Download & Install the Software
 Click Browse button to select PDF file
If the file is password protected then, check password to open a PDF file
Hit, the Browse button to select the destination location
Lastly, click on Remove PDF Security button
There are also some online tools to unlock PDF online
Conclusion

Earlier, unlocking of PDF files for printing purpose is a very tedious task. But, now due to multiple online and offline applications, it becomes easy for the user to remove print security from PDF documents. We have described three simple solutions by which a user can unlock secured PDF to print. Each solution has their own advantages and disadvantages. Thus, it totally depends upon the user need and requirement.