In the previous article, we have mentioned the Best Free Adobe acrobat alternative (PDF readers), now in this article, we will be providing the list of best pdf comparison tools available (free or paid) to download and use.
WinMerge with Xdoc (Free)
In this solution of comparing PDF files, you will have to download two free tools and then follow the below procedure
Put the files where the xdocdiff plugin's readme file says to put them (there are two places; read the readme file to get correct location)
In WinMerge, go to Plugins -> List and tick the "Enable Plugins" checkbox (this step is missing from the xdocdiff readme)
In WinMerge, choose Plugins -> Automatic Unpacking (this was disabled prior to step 2)
That's it, you can now compare PDF files for free.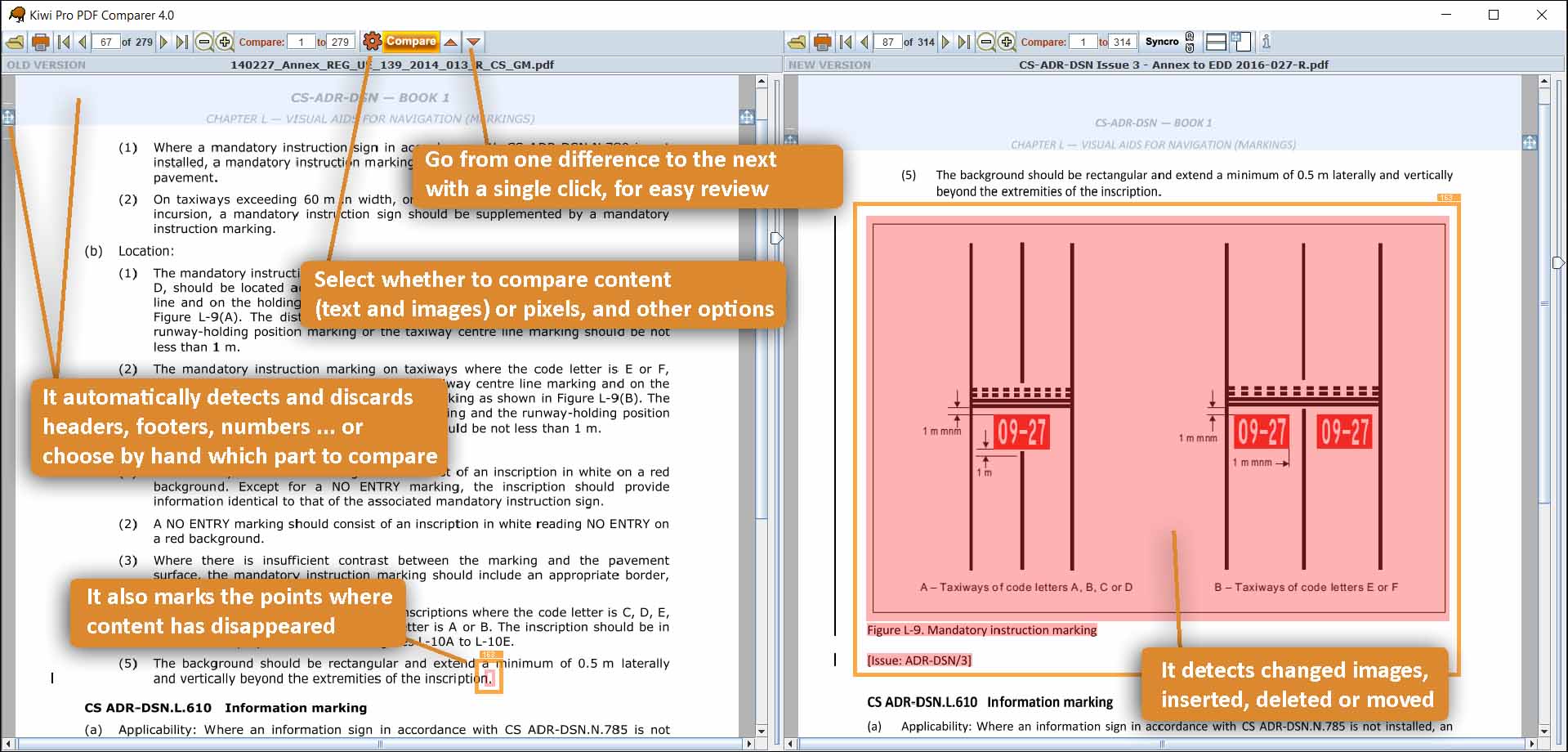 It is available in both free and premium editions. This tool changes in text and images and highlights them in documents, being able to obtain the best results on the market.
It can also indicate variations in movement, input and output, and more. You can pick apart and KIWI will simply analyze the change records around there in the event that you would prefer not to look at the whole PDF document.
While handling on stage, you can utilize it on Windows, macOS, and Linux PCs, but before installing it you must have Java 7 (1.7) or later installed.

Accompanies two different ways to analyze, Text Comparison, and Compare Pixel with the pixel.

Pros:- 
Pixel to Pixel comparisons find differences between pages such as images.

·

Before modification, you can leave the title, side, and foot from the comparison and select those pages that you want to compare in case if the document has multiple pages. 

Software provides an intuitive user interface and is also easy to use. 

Changes are shown throughout the text. You can change the size and color of tags and other items to highlight text behind complex backgrounds. 
Cons:-
The free version of KIWI only allows up to 100 comparison pages. With expanded features such as image comparisons and print effects, you need to  upgrade to a premium version. 
Recognizes the difference between two  PDF documents: - Compares the text layers of two PDF documents and pulls the binding boxes of the text converted to JSON.
Rearrange pages converted to PDFs into PNG and draw red dots around the altered text.
Pros:
This tool is completely free to use.
Turn two PDFs into one large PNG image showing the differences
Cons:
It takes two PDF files as arguments. By default,  it only releases its return code, which is 0 if there is no difference and 1 if these  PDFs are different.
Another option is to compare both files by looking at a simple  GUI, using the viewing argument. This opens a window that allows you to view page files, identify their differences, and zoom in on details. 
Pros: 
Supports multiple pages well. 
Graphical red /blue diff.
Whole page preview in the panel.
GPL license. 
Cons:
Trying to offset one page vs the other causes a crash, etc. 
The offset is very slow. 
No longer supported by developers.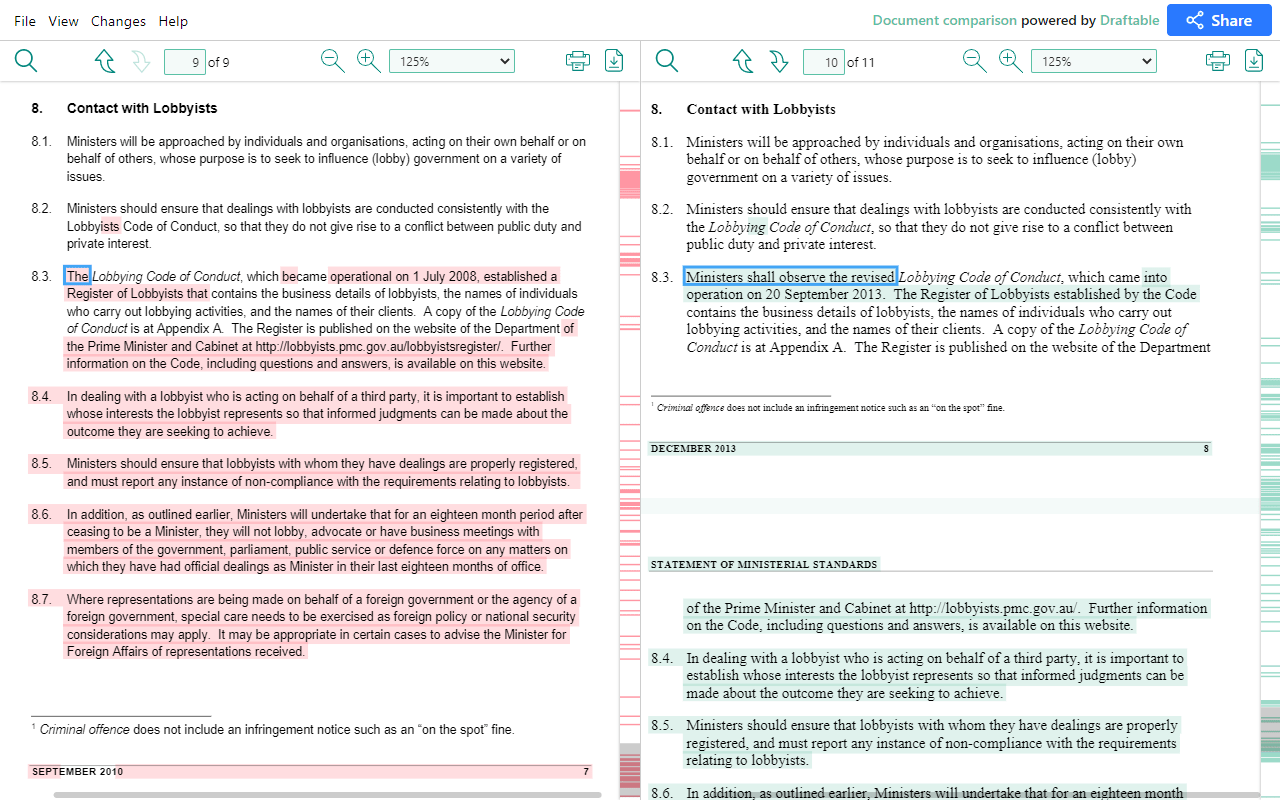 It can be a solution for comparing cloud-based texts. You can also install the stand-alone tool for your PC, but that only comes with a 14-day free trial. Arbitrary Internet is not difficult to utilize and is a superior choice in the event that you have a couple of pages of data to analyze and if the texts are not private. To compare documents, visit a website and upload the old and new documents you want to compare. 
 Pros:
The online version accepts capture of more than 10 MB per 300 text pages.

Draft also supports text comparisons of different file formats. 
Cons:
There is an offline version that can be drafted and has a lot of privacy settings, but it is not free. Word, Excel, and PowerPoint are among the file  types supported by both versions. 

PC version is free for 5 days only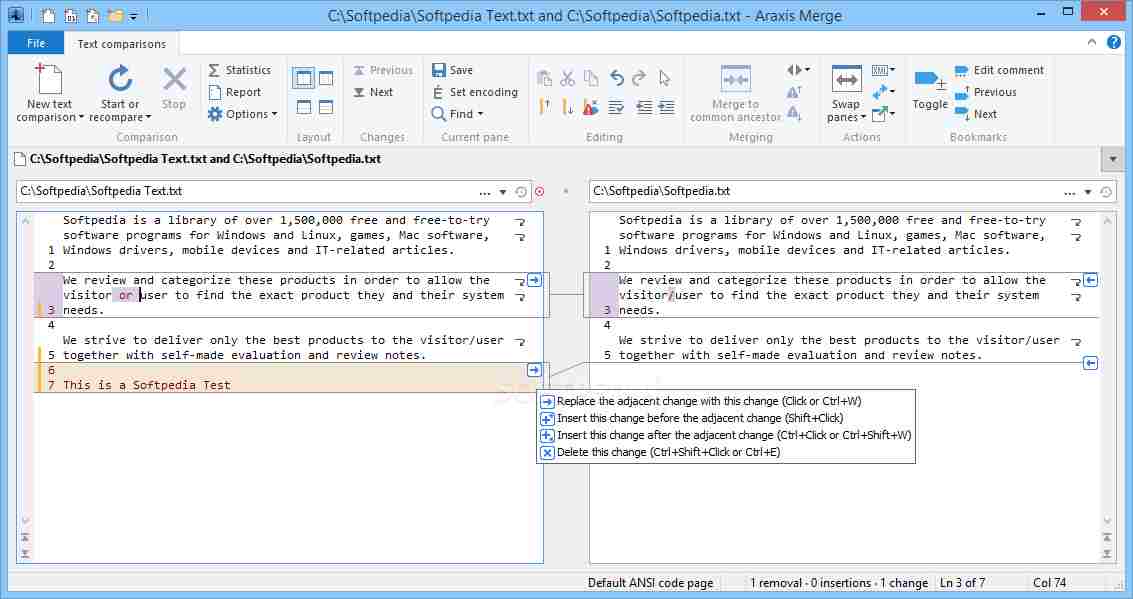 Araxis Merge is a file comparison application that makes it simple to compare text across Microsoft Word and PDF files.
It can also distinguish between updates to source, HTML, XML, and other text files. Directly from the editor, the file can be accepted, merged, changed, or removed.
The Pixel Comparison advantage lets you compare image-based files to text conversion. It also supports 3-way comparisons and auto-integration, but the feature is limited only to Pro users. 
Pros:
Directly compare text from Microsoft Word and Excel, OpenDocument (ODF), PDF and RTF files.
File comparison reports can be created in HTML, HTML slideshow†, XML or UNIX diff format. HTML reports are particularly useful for archiving and distribution. Folder comparison reports can be created in HTML or XML format.
A single licence entitles you to use Merge on both Windows and macOS – even simultaneously, if you wish.
Cons:-
Only 30 days free trial before buying it
DiffPDF can compare two PDF files. It offers three comparison modes: Words, Characters, and Appearance.
By default, the comparison is of the words on each pair of pages, but comparing character by character is also supported (e.g., for logographic languages). And there's also support for comparing the pages by appearance (for example, if a diagram is changed or if a paragraph is reformatted, or font changed).
It is also possible to compare particular pages or page ranges
Pros:
Provides several different methods of Appearance comparison.

3 diff modes: Words, Characters, and Appearance.
Cons:
Aspose is online software that comes with a wide range of services including a file converter, file splitter, PDF editor, PDF document parser, and of course a PDF comparison tool.
Pros:
Online diff tool that allows compare two PDF documents for free
Compare PDF documents online and highlight the differences.
Download highlighted results as Word, PDF or HTML document
Instantly download or send resultant file as email attachment
Cons:
You cannot use it when not connected with internet.
That's it from our side, if we have missed and pdf comparison tool, let us know in the comments section.
You may also like to read: