There may be the circumstances when you need to share files between your two different computers be it a laptop, PCs etc. The sharing of data such as files, music, pictures, video etc. can be an immediate need or demand which can be easily fulfilled through various ways in terms of connecting two different computers. This will also help you in terms of sharing the internet connection between two different PCs. This will save a lot of time and easily help you in getting the work done faster in case of different computers. This is also a very beneficial way for the gamers to play Counter Strike and other games through a network.
Through this article, I will be sharing various methods and ways by which you can easily connect two different computers and can take advantage of file sharing between them.
Method #1: Connecting through PCs through Ethernet(LAN) Cable.
You can easily connect two different PCs through a very common network cable called Ethernet Cable or Firewire. This cable is majorly used in network connection and facilitates faster transfer of files and data between the devices. In terms of connectivity using this method, it requires a crossover cable that looks same from both the ended. You can see the image below.
Now following simple steps to connect two computers:
1. Connecting Cable to PC port
Connect crossover cable to RJ45 port of your laptop or CPU. In a laptop, the port is located in the sides whereas in CPU you can locate the port at the back of the cabinet.
2. Configuring IP Address of both the computers
Configuring IP address which is a "Unique address" through which your computer will communicate with each other. You can change IP address through Control Panel on your PC. This method will be same for both the PCs, you have to repeat the same method but have to slightly change the IPs you are assigning.
Follow these steps:
Go to control panel, navigate to Network and Sharing Center. There on the left side, you will find an option for Change adapter settings. Click the adapter setting and proceed to next step.




Choose the LAN(Local Area Network) and right click on it. Now click on properties to configure IP address.


Now a window will open with the properties, navigate to "Internet Protocol Version 4" and click on properties.


Now a window will open where you have to assign unique IP address differently to both the PCs. For instance- Assign as per the instruction is shown below:
  Computer A
IP address: 192.168.0.1
Subnet mask: 255.255.255.0
Computer B
IP address: 192.168.0.2
Subnet mask: 255.255.255.0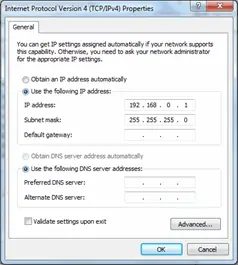 Now you are done with assigning the IPs to the PC. Now proceed to the next section to know how to really enable file sharing.
Now Assign Workgroup name to enable file sharing. To achieve this goto Computer or My Computer/This PC(In windows 8+) and right click. Go to properties> change settings.

Now assign computer name under this section. Example- Computer A                                                                                                                                                                              
Click on Apply and then you are ready to share the files between PCs. Now you need to navigate to Networks which is located on My computer or This PC.                                   
There you can see the name of Second PC appearing.                                                                                                                                                           
Note: If nothing will appear there, you will get a prompt to turn on network discovery and file sharing.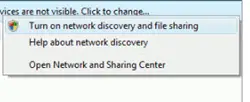 In terms of sharing the files after this method, You just need to right-click on any of Your Drives or Local Disk. Just right click and navigate to share with and select Homegroup. You can navigate to the shared disk on the network tab of your other computer to share files from that disk.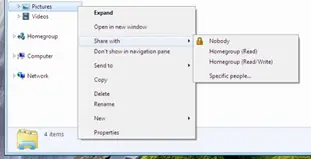 Method #2: Creating wireless Ad-Hoc Network
Follow these easy instructions to connect two computers through Ad-Hoc Network.
Goto control panel and navigate to Network and Sharing.
Go to Setup a new connection or network.                                                                                                                                                                                                              
Select "Setup a wireless ad-hoc".                                                                                                                                                                                                                                                      
Now give any name to the network through which other PC can connect and give a security key/password as well to make it secured.                                           
Now your computers are connected, you just need to set up a homegroup network to share the files.
POINT #3: Sharing Files through Homegroup.
In order to setup homegroup, you need to navigate to control panel and click on the homegroup.                                                                                                                                                                       
Now select an option to create a homegroup and proceed further with file types selection that you want to share.     
Now homegroup will set up a password for you to share the files through which you can share between the different PCs.                                                                                           
Now, You are done and now can access the file through homegroup tab in This PC or Computer. Make sure that homegroup is enabled.                                                                                                     
These methods will help you in terms of connecting two PCs and will also allow you to share files between them. I hope that this article will help you in terms of connecting two PCs. Please let us know your comments.
You may also like to read:

How To Transfer Files From One Pc To Another Using Wifi

How to Connect two Routers(Bridging Routers)

How To Connect A PC To A Mobile Phone.

How To enable rdp in windows 10 (Enable remote desktop in windows 7/8/10)