One of the best things about Android phones over iPhone is to easily transfer files from one device to another, but it is not the same case when it comes to transferring files from android to mac, so in this post, I have explained few ways which will make it easier.
This is the official app from Google to transfer files from android to mac and they have definitely improved it over time.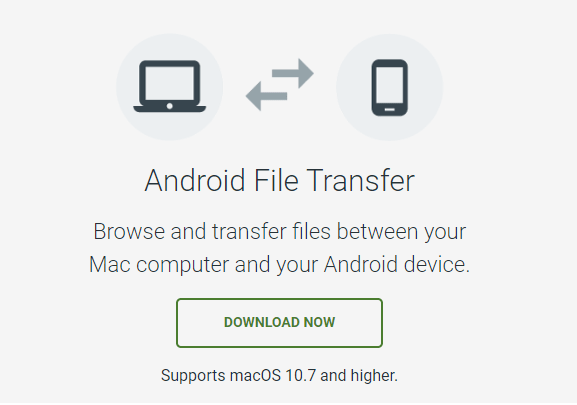 Here are the simple steps that you need to take in order to transfer files
Download the app.
Open AndroidFileTransfer.dmg.
Drag Android File Transfer to Applications.
Use the USB cable that came with your Android device and connect it to your Mac.
Double click Android File Transfer.
Browse the files and folders on your Android device and copy files.
It works over the USB connection and it works for most of the user, but it may not be the perfect solution for you.
Many iPhone users are aware of this application, as they are using it as an alternative to iTunes.
For Android to Mac transfer, it offers a comprehensive device syncing solution between a Mac and Android smartphone/tablet.
It supports all the versions of Android, so you're well covered even if you own a slightly older Android device. This particular offering is fully capable of syncing photos, music, videos, and even apps through .apk files.
One of the drawbacks of AnyTrans is that it may take some time to recognize your device.
Syncmate is another software allows you to transfer files from Android to mac or mac to Android. It is a really useful software to transfer files between android and mac, so if you are looking for a software and want to stick with just one, give it a try, you will definitely like it.
You can try its free version and if you like it, you can buy the expert version also.
 It allows you to connect your Android device as a separate hard drive, allowing seamless file transfer between your Mac and Android device.
You can also mount your Android smartphone as a separate disk on your Mac, giving you the freedom to quickly transfer files between folders.
Transfer files using Cloud services
Yes, this is not a perfect way to transfer files between Android and Mac, but you can sync all of your files from your android device to Dropbox or Google Drive
And then simply open these cloud services in your mac and download files from it.