Before the end of 2019, Mukesh Ambani declared that they will be providing Jio Set-top box with Jio Fiber connection, which will include some pre-installed applications also. Let's take a look, how we can install it at our home and which applications we will get with it.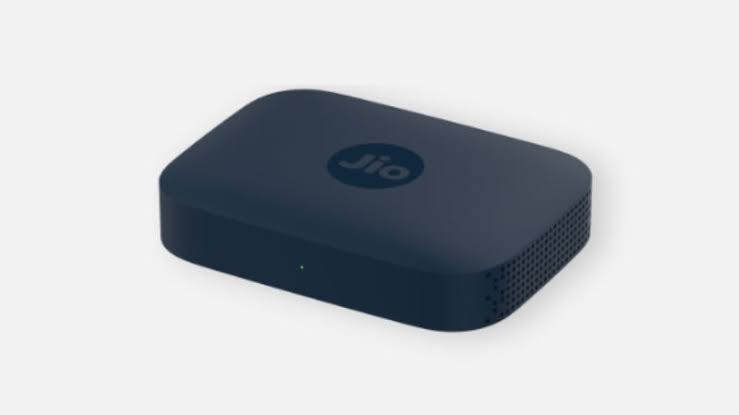 How to get your free Jio Set-top box?
If you have bought a Jio Fiber connection, recently or you have bought it some time, ago, then 
Go to your MyJio app
Sign up for a paid plan of your choice via the MyJio app. You can pick a monthly, quarterly, or annual plan.
Once you've made the payment, the MyJio app will display a banner on the main screen that will let you schedule an appointment for your set-top box installation, they will deliver at your home as soon as possible.
You can also visit a nearby Reliance Jio retail store to pick up your free Jio Fiber set-top box, but before heading out to check if they've got one in stock for you.
If you are going to buy a new Jio-Fiber connection, you will get Jio Set-top box installed with your JioFiber Connection.
Note: Jio Set-top box works with your JioFiber broadband connection means it works with the internet so your JioFiber router must be connected to your Jio Set-top box using the Internet Lan wire. Also, you might want to minimize the distance between Router and set-top box.
How to install Jio set-top box?
Usually, Reliance Jio will send a technician to install set-top box for you, so you don't need to worry about it and it will only take 10 minutes for technician to install it.
You just need a Lan wire to connect your Jio Fiber router with Jio Set-top box and an HDMI cable to connect jio set-top box with your TV.
You will be getting both HDMI cable and Lan Wire inside Jio Set-top box, but Lan wire is not so long, which you get inside the box so installing Jio Fiber Router near your TV would be ideal for you or you can get more Lan Wire.
The set-top box will first install a few updates and reboot, even the remote control will receive a fresh software update the first time you use it.
Apps which comes with Jio Fiber Set-top box
There are lots of talks about which apps, we will get installed with Jio Set-top box, so as of now, the Jio Fiber set-top box comes with following apps 
Hotstar
YouTube
Voot
JioSaavn
JioTV Plus
SonyLIV
JioCinema
There's a custom app store, JioStore, that lets you download new apps on the set-top box.
Note: Using Jio Fiber set top box, you cannot watch NetFlix or Amazon Prime series as it is not installed with Jio Set-top box, also it is not a replacement of conventional DTH set-top box.
Jio Fiber Plans
As of January 2020, here are the Jio Fiber plans, using which you run Jio set-top box also
Bronze Plan - Validity 30 Days - 100GB/Month - 100 Mbps Speed - Rs 699+GST (Price)
Titanium - Validity 30 Days - 5000GB/Month- 1 GBPS Speed - Rs 8499+GST (Price)
Platinum - Validity 30 Days - 2500GB/Month - 1 GBPS Speed - Rs 3999+GST (Price)
Diamond- Validity 30 Days-1250GB/Month - 500 Mbps Speed - Rs 2499+GST (Price)
Silver - Validity 30 Days-200GB/Month - 100 Mbps Speed - Rs 849+GST (Price)
Gold - Validity 30 Days-500 GB/Month - 250 Mbps Speed - Rs 1299+GST (Price)
Above are monthly plans, some of the plans also contain benefits like extra 50Gb / Month or 250Gb / Month, check your MyJio app for more details on price.