iOS 11 is here now!
As we all know iOS11 has finally arrived in the market on September 19 with various advantages over the previous iOS. With the bolder text and little changes in apps like Calculator, the OS has redesigned the Control Centre which looks beautiful and easy to access than the previous one. Not only this, the Lock screen is now being combined with Notification center because of which you can now access notification and lock screen by just swiping down on the screen. With the above key features, other features like easy setting up Emergency SOS, turning Wi-Fi ON, new Siri, etc has lead to various upgradation to your old hardware but many of you are facing the problem that upgrading iPhone or iPad to iOS 11 has slowed down your system's speed and memory. Let us discuss this problem and tips to improve iOS 11 speed and memory in detail.
Has iOS 11 slowed down your system?
Probably the answer from many of you will be "Yes". However, we all have a misconception that upgrading an old system operating system to the latest one means that we will have a new system in our hand but in actual it just upgrade some applications and may speed up the system interactivity with you. Any system, whether it is new or old, can behave slowly due to the reasons like no free space, lots of apps running in the background at the same time, etc. If you feel that your system is behaving slowly after installing iOS 11, you can try the 7 tips mentioned below to improve your IOS11 speed and memory.
Tips to improve iOS11 speed and memory
1) Upgrade all your applications to the latest one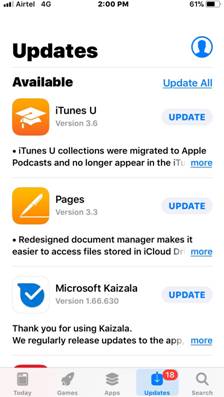 Not upgrading the applications can lead to slowing down the applications and ultimately the system. Check for the updates on the 'App Store' and install if any updates are available. Just make sure to update one app at a time as updating all apps may hit the system performance.
2) Rebooting the device
Sometimes just rebooting the device can increase the performance of the system as it forcefully shuts down all the background processes and running applications. After restarting the system again, only the necessary applications will run in the background and may speed up the system.
3) Enable "Offload Unused Apps" feature in iOS 11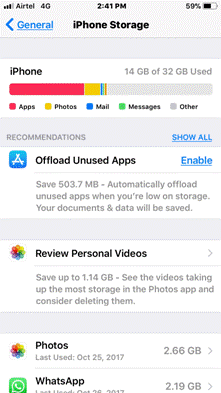 This feature is available only in iOS 11 and helps in managing the phone storage by removing the unused apps but keeping the related documents and data active.
4) Reset all your settings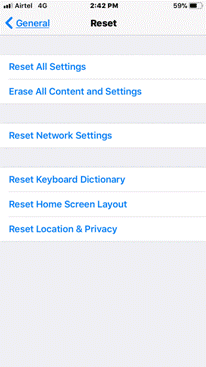 Resetting you iPhone/ iPad settings to the original settings will not erase any existing setting but may increase the system's speed and memory. You can do this by following the below steps-
Go to Settings app > Tap General > Tap Reset > Choose Reset All Settings > Enter your passcode > Confirm on the pop-up window.
5) Enable "Reduce Transparency" feature in your system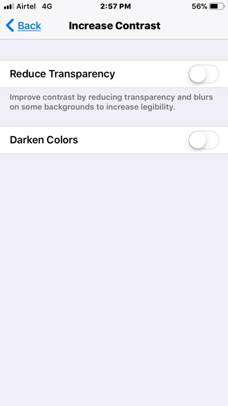 Turning off this feature may result in performing the device faster. Apart from this you can also turn on "Disable Motion"  and turn off "Background App Refresh", "Location Services" and "Automatic Downloads" features.
6) Clear all your browser cookies and data
By doing this, your system's browsers like safari will run fast and will perform in a better way.
7) Keep some free memory always
It is very important not to utilize all your system's memory as it slows down the speed and memory. So, always keep some memory free as it will perform better in free space.
Hope these points will definitely help.