As cryptocurrency is treated as the future of the world, a lot of people are planning to invest in it. If you are one of them then you must know about cryptocurrency exchanges. Cryptocurrency exchanges are the place where you can trade all kind of crypto coins. What are cryptocurrency exchanges? Well, the exchanges allow the users to buy, sell, and store their cryptocurrencies safely.  They are decentralized and free from the government implications. Besides, they use various kinds of high technology securities to keep the coins safe. As a result, you invest as much as you want without any hazard of the tax authority. The exchange websites allow the users to exchange their crypto coins into flat money or traditional currencies like USD, EUR.
Today I will introduce to you some of the best cryptocurrency exchanges which allow the users to exchange crypto coins like Bitcoin, Litecoin, Ethereum, etc. easily. They come with a lot of features to make the exchange comfortable for you. Keep reading the article to know detailed information about the best cryptocurrency exchanges.
Things to consider at the time of Joining a Crypto Exchange
There are thousands of exchanges on the internet to put you in confusion. But you can easily find out the best if you simply consider these issues before joining an exchange:
Popularity: Peoples normally use exchanges which provide them better features. Besides, the popular exchanges have the least possibility of being scam. So, you can choose an exchange with transparent reputation.
Verification Process: Basically, the real exchanges will ask you for ID verification to exchange coins. Though it is an agony to wait for being verified, the process helps the exchanges to stay free from all kind of scam. However, there are also some good exchanges which allow the users to exchange anonymously.  
Exchange Rate: The exchange rate differs from exchange to exchange. You must select an exchange which provides the best value for your money.
Charges: There is a small fee every time you do withdraw or deposits from the exchanges. Select an exchange which charges a small amount of fee.
Options: An ideal cryptocurrency exchange must have multiple options to buy coins like the credit card, PayPal, Bank transfer, etc.
Security: When you are buying or selling cryptocurrency it is always good to do this using secured and trustable source online.
Top 7 Best Cryptocurrency Exchanges
As a newbie, you may think that cryptocurrency exchange programs are like as traditional stock exchanges. But you will be amazed to know that the cryptocurrency exchange programs are made of outstanding modern technologies which provide the users best output. The below-listed cryptocurrency programs are some of the best cryptocurrency exchanges. Below are the details listed - 
1. Coinbase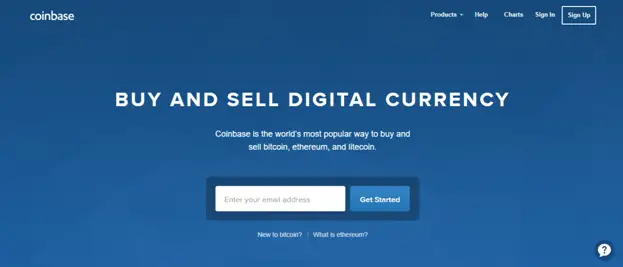 Coinbase is one of the best cryptocurrency exchanges in the world. Millions of investors use it for their day to day use.  You can exchange all the top crypto coins like Bitcoin, Litecoin, Ethereum, Ripple, etc. You can purchase any crypto coin from their digital wallet which is available as an app for Android and iPhone. They use their own technology known as GDAX (Global Digital Asset Exchange) to provide a friendly and secured user experience to their customers. As a result, Coinbase is considered as the most beginner friendly cryptocurrency exchanges. Coinbase is available for almost all the countries of the world. It only charges a small fee for transactions. 
Coinbase is a San Francisco, California based American company. They started the journey in 2012. Currently, they have more than 10 million active users. If you are a beginner then Coinbase is the preferable option for you.
2. Binance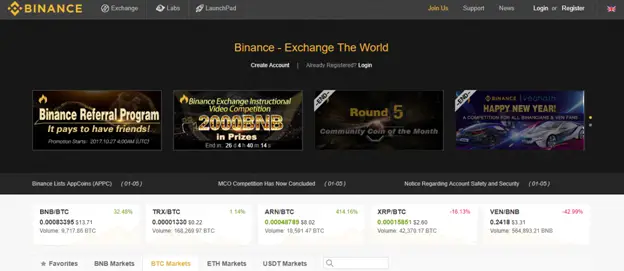 Binance is another crypto exchange and wallet, which provides crypto trading services for a lower fee. The trading fee in Binance is only 0.1 percent. Binance is a well-organized cryptocurrency exchange website which provides a fluent service to the customers.
The server of Binance is able to process 1.4 million orders within a second. Besides, it provides exchange services for all major crypto coins. The most amazing thing is Binance has a customer service team which is very unusual in the cryptocurrency sectors.
It supports all main languages like English, Spanish, Russian, Chinese, Japanese, Korean, etc.
The headquarter of Binance is situated in Hong Kong. However, the server of Binance is in South Korea. Binance also has owned an ICO, named BNB. Binance started the journey only a few months ago. Now they have more than 2 million users worldwide.
3. Changelly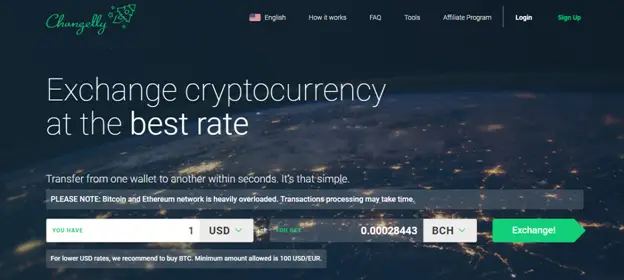 Changelly is another famous cryptocurrency exchange, which was started in 2015 globally.
Apart from converting cryptocurrencies from traditional coins, Changelly allows the user to convert one crypto coin to  another. Their service is available all over the world. You can make any size of transactions with it.
Changelly is especially famous for the high-speed transition process. It requires around 5 to 30 minutes for every transaction. Besides, the charges are very low in Changelly.
You will only need to pay 0.55 percent of the total transaction. Changelly provides anonymous transactions which allow you to do a transaction without creating an account. There are more than seventy plus currencies in Changelly available for trade.
Changelly was launched in 2013 in Prague, Czech Republic. Soon, it became famous because of its beginner-friendly trading system and other unique features. As a result, there are more than 1 million active registered users in Changelly right now.
4. Bittrex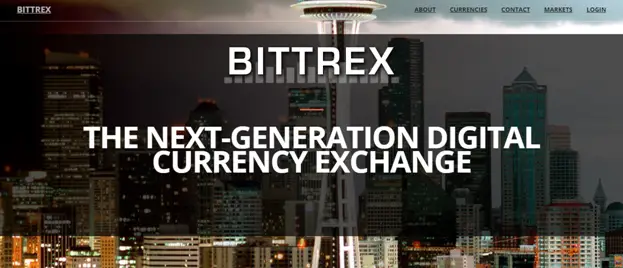 Bittrex is a United State based cryptocurrency Exchange Company. It comes with a lot of unique and user-friendly features. It comes with the maximum security as it is directly US regulated company and abides by all US rules. Apart from other crypto exchanges, Bittrex requires minimum user information for the verification process. Besides, it takes the least possible time to verify an account. A user can withdraw up to 3000 USD per from the basic account. However, there is no limitation on deposit. The fee is .25 percent for per transaction.  The Bittrex provide the best security for your coin. They use the 2FA technology to secure the coins.
The most amazing thing about Bittrex is they have support for more than 250 cryptocurrencies. The wide ranges of choices allow the users to trade more efficiently. However, Bittrex doesn't support exchanges to traditional currencies. You can only exchange between cryptocurrencies. It is believed that Bittrex will be the number one choice for crypto traders very soon.
5. KuCoin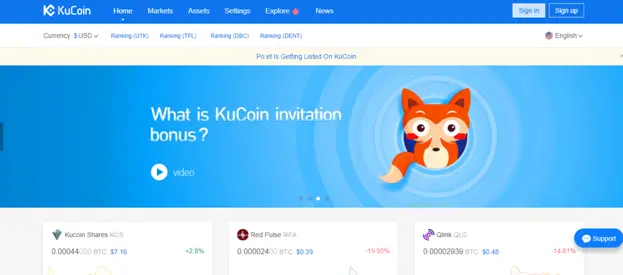 KuCoin is was introduced in 2018 in the cryptocurrency world with a promising start.
KuCoin is currently one of the fast cryptocurrency exchange service providers. It takes around 10 minutes to complete a withdrawal and 2 minutes to store coins in your wallet. The vision of KuCoin is providing a fast and highly secured trading place for the investor.
It uses various security systems as like as data encryption, multi-level risk identification control, and dynamic authentication to ensure the safety of coins. KuCoin shares their most of the trading fees to their customer. Besides, you can earn up to 50% by referring it to your friends. They currently support almost all the top cryptocurrencies.  They are aiming to provide trading support for more than 1000 plus crypto coins by the end of 2018.
KuCoin started their journey only a few months ago and it's already become a top exchange. The transaction fee in KuCoin is only 0.1%. Besides, the encryption system of KuCoin is similar to banks. KuCoin has a lot of possibilities in near future.
6. CEX.io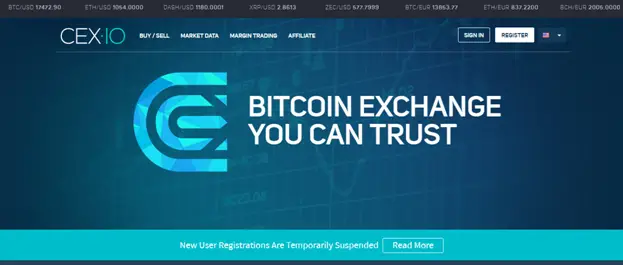 Cex.Io offers a variety of services for cryptocurrency investors. It allows the users to exchange traditional currencies with cryptocurrencies. It has an easy user-friendly interface for all kind of traders. The CEX.io is extremely beginner friendly and it allows them to trade Bitcoin and other currencies in the easiest way. Apart from the other cryptocurrency exchanges, it provides a better exchange rate. They use cold storage to provide you the best security for your coins. It has support for all the popular cryptocurrencies.  Besides, users can easily buy crypto coins using their credit cards.
You can buy up to 400$ worth Bitcoins from basic accounts. However, verified account holders can buy up to 10000$ worth Bitcoin per day. CEX.io is a US registered company and as a result, there is no concern about the security.
7. ShapeShift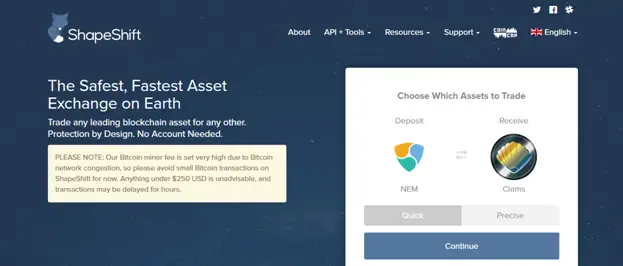 ShapeShift is one of the beginner-friendly exchanges with more than 50 plus cryptocurrencies. They provide a secure environment for all kind of traders. It is a great exchange for those who want to trade without any hazard of signup and verification. However, it doesn't support fiat currencies and you can only exchange from one crypto to another. The service of Shapeshift is available for almost all the countries of the world. They don't charge any transaction fees, as it is a free open source platform to trade, track, buy, and earn. Community-owned. Private. Non-custodial. Multi-chain. 
However, you will need to pay the coin's miner fees.
ShapeShift started their journey at 2013 from Switzerland. They offer their services for peoples all over the world. If you are looking for a crypto exchange which will provide the best service without asking you for personal information, then the ShapeShift will be a great option for you. 
The below-mentioned cryptocurrencies exchanges or wallets are some of the best of the current time.
You can select any of them to get the best services along with security for your coins. If you have any questions about the best cryptocurrency exchanges, then please let us know by comment.
You may also like to read:

What Is Altcoin and Where To Buy Altcoins

How to Mine Bitcoin from Your Computer

Top 10 Best Altcoins under $1 to Invest

Best Metaverse platform to use

Best NFT communities to look for