In previous article, I have mentioned about Top NFT wallets to use and now in this article, I have mentioned top NFT Analytics system to use so you can check different NFT Analytics and Data services where you can get a lot of information about NFTs, upcoming minting events (primary market) , new collections and the development of existing NFTs (secondary market).
Dune Analytics is free for everyone forever but If you want extra features like private queries, export your results and more, then you will have to buy it's PRO Plan.
Dune is enabling the public release of blockchain data so that it can be used by anyone.
Features:
Explore and fork thousands of queries and dashboards
Use Interactive NFT Floor Tracker dashboard and set up all your favorite projects so you can then easily track their floor prices.
Create your own custom charts and dashboards using plain SQL.
Monitor key metrics such as DeFi, NFTs, and more.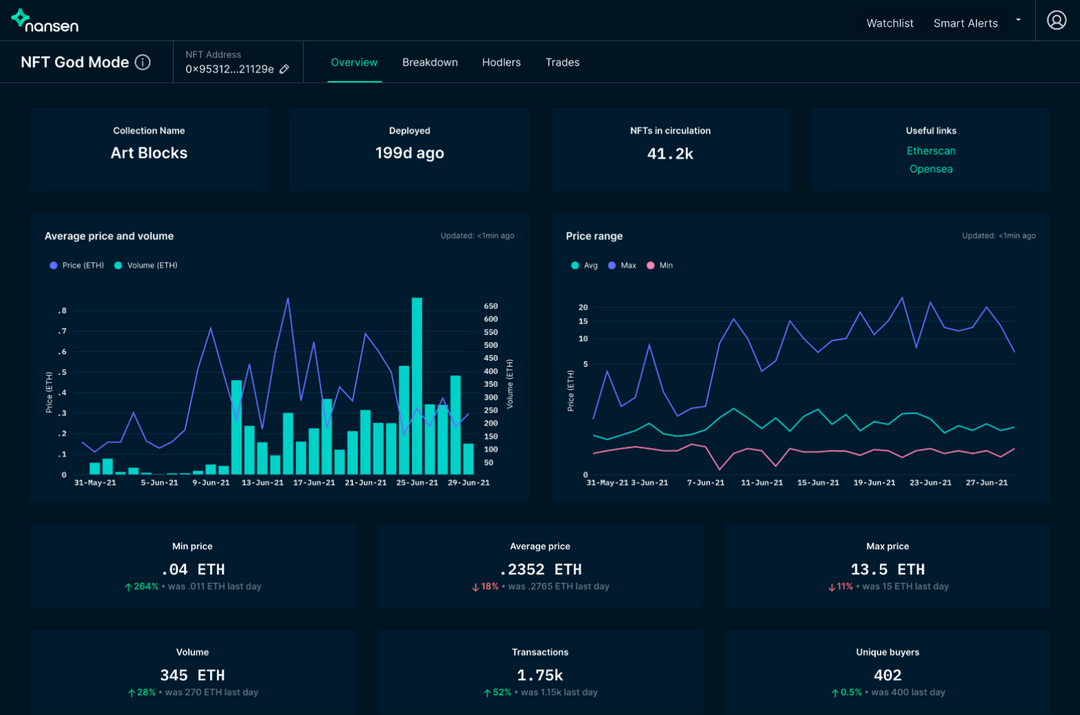 With Nansen, you can integrate real-time on-chain data with millions of wallet labels in a massive and ever-expanding database. 
It is an excellent tool, but you need some skills to use it as well, since it's a generic tool that is not tailored specifically for NFTs.
Features:
Create real-time custom alerts and get notified when and where a wallet has been moving its funds
Allow users to download data
Free trial available.

Ayzd helps you learn about the NFT and Metaverse drops. Biggest NFT project database, live news feed, top collections, powerful analytics, statistics & more.
Using it, you can understand which projects are on a rise right now and which are losing its hype.
Features:
Largest collection of NFT project
Powerful Analytics

Moby offers real-time NFT minting insights, wallet watch lists, instant notifications and price trends.
Moby is not very popular, but it is definitely an effective NFT tracking tool. It offers the fastest real-time NFT statistics and feeds.
Features:
Moby can turn out to be really useful for NFT investors and also help them in monitoring their assets.
Limited Risks and Event Notification
Trade execution at lightning speed
Subscribers can access more useful data like historical collection data, real-time feeds, NFT signals, and much more.
Downside: you can't access every feature for free, and you need to get a subscription for better tracking.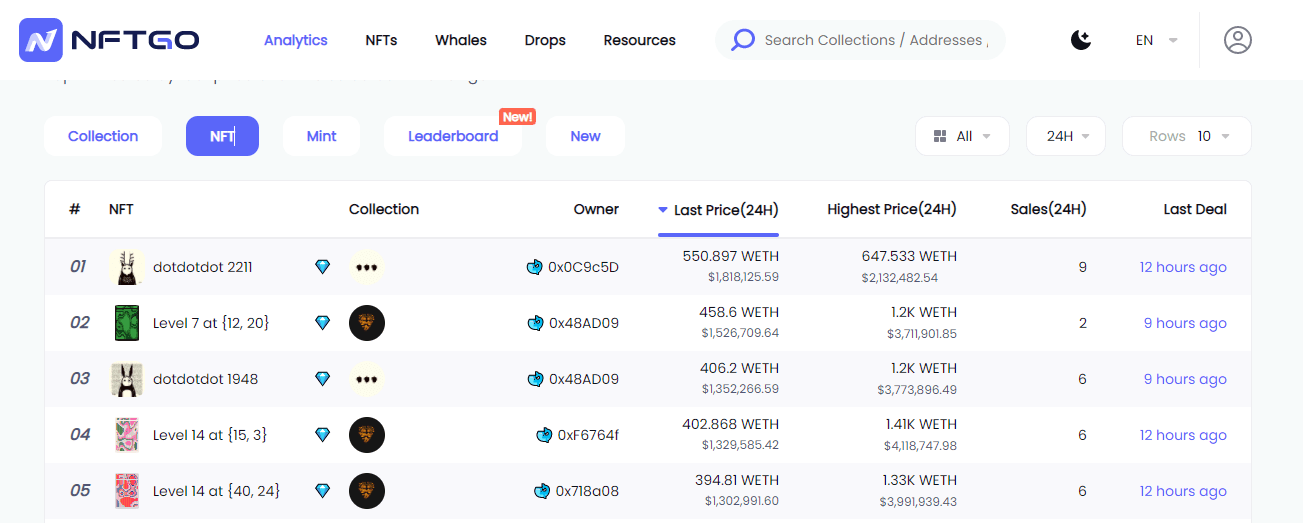 It can be called as world's best analytics platform for NFT. Get NFT drops, whales activities and updates directly in your mailbox.
NFTGO uses a self-developed stable blockchain data collection engine to obtain the latest on-chain transaction data from the blockchain and parses it into readable NFT transaction and market data.
Features:
Rarity distribution
Whales tracking
NFT Management.

Ice.tools offers a variety of useful analytics tools. In addition to tracking prices, volumes, and sales history, the platform enables users to find emerging projects and other features.
Features:
Real Time Floor & Volume
Get the full mint, buy, and sell history of any wallet in real time and analyze its full portfolio.
Get breakdowns on projects and browse traits and rarities.
Budget-friendly
Get browser, Telegram, Discord, & SMS alerts for mints, projects and wallets you follow.
That's it, we will keep updating this page to add more best NFT analytics, if we have missed any tool, please mention it in comments section.
You may also like to read:

Best Metaverse platform to use

Top 10 Best Altcoins under $1 to Invest