To search the World Wide Web in a systematic way people use search engines. It is a software system. There are several search engines available in the marketplace. You can select and change the default search engines of browsers as you want. Some popular browsers are Microsoft Edge, Google Chrome, Mozilla Firefox. This article will give you details to change the default search engines of browsers in Windows 10 or Windows 11. Go through the following details to change it now.
Change Default Search Engine in Microsoft Edge 
Microsoft Edge comes with Bing as the default search engine, although it provides speedy searching results.
Microsoft stated that it is the fastest browser on the market.
Microsoft Edge is a perfect as Windows default browser. However, you can always go with other search engines using Edge.  
To change the Microsoft Edge default to any search engine you have to go through the following steps: 
Step One 
In Microsoft Edge, write an inquiry in the location bar using the search engine you want to set as your default. 
Step Two 
Go to settings and more, then select settings. 
Step Three 
Click Privacy and services.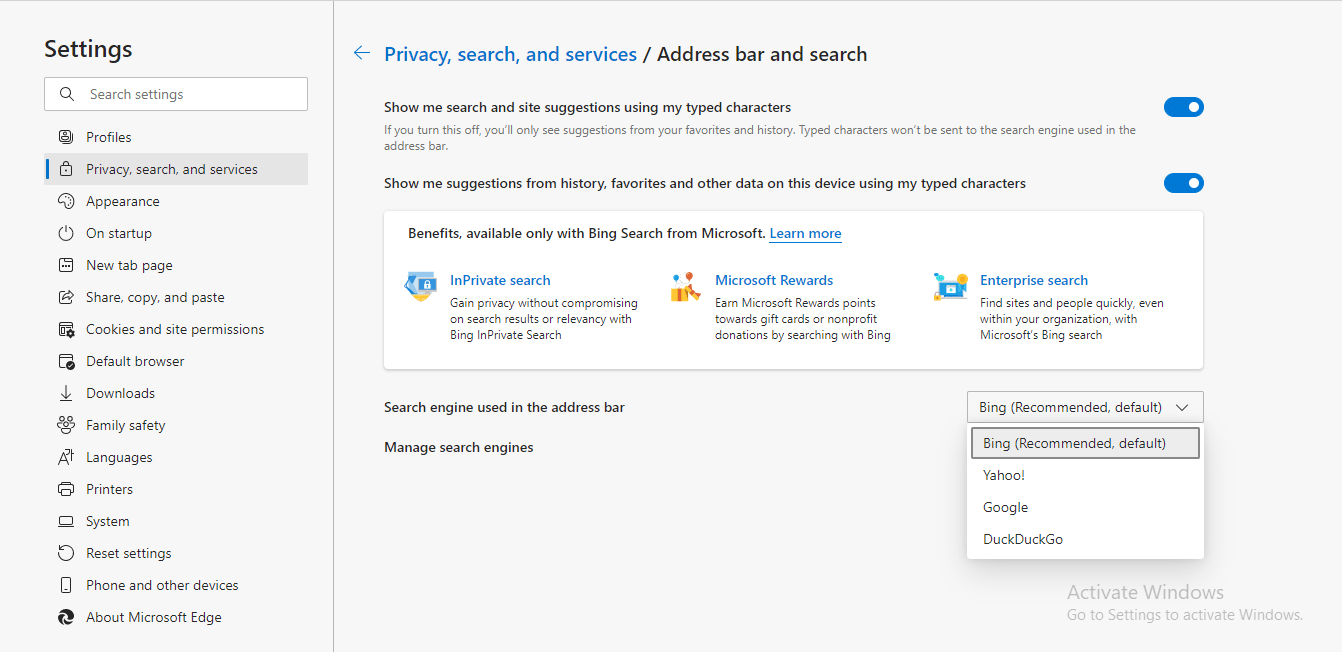 Step Four 
Go down and choose the Services section and after that select the Address bar. 
Step Five 
Go to the Search Engine used in the address bar menu then select the Search Engine you want to set as your default one. 
After completing these five steps you can enjoy using other search engines as your default one. 
Change Default Search Engine in Google Chrome 
Google Chrome is a clean design, fast and easy tab-controlled Web Browser.
People are comfortable with using this browser for day to day tasks. You can go with this browser without any hesitation. Google Chrome comes with default search engine selected as Google.
In case, you want to try out other search engines with Google Chrome Browser, then you may follow this procedure: 
Step One 
Open Google Chrome, then click on the three dots just bellow your profile, select Settings. 
Step Two 
Go to the Search Engine section, then you will find the Search engine used in the address bar, you can look for a different search engine from there.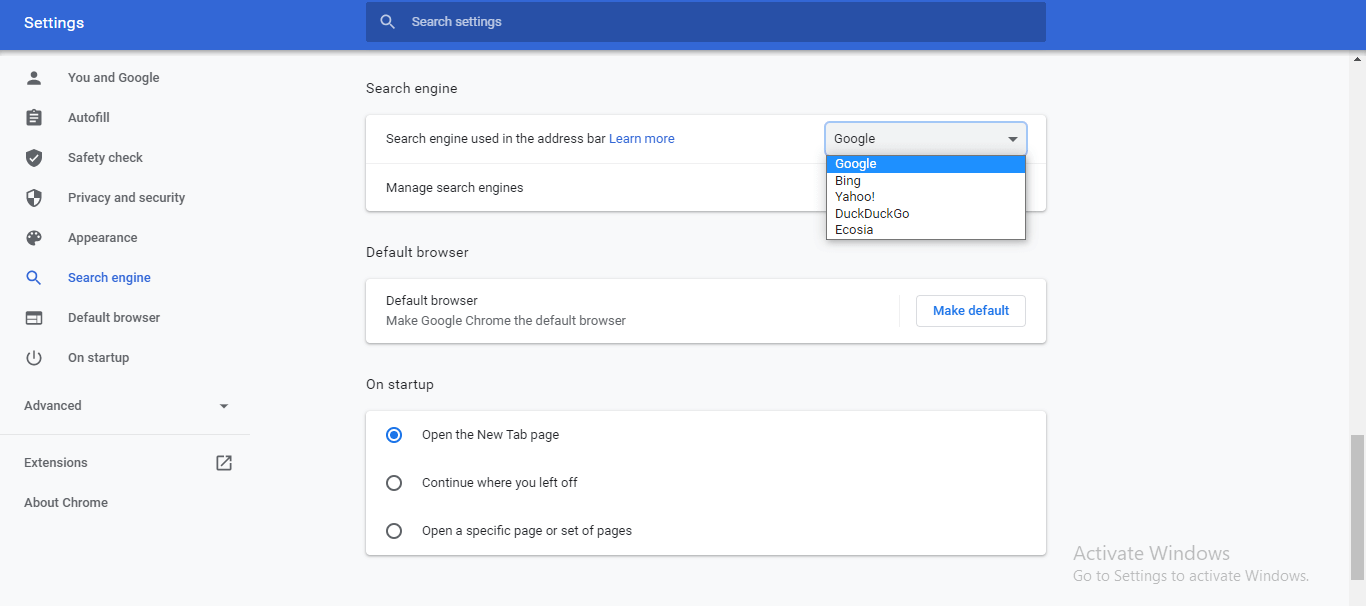 Add/Remove Any other search engine in Chrome
You will be able to add, edit, or remove other search engines as well from the list by clicking the Manage search engines arrow. 
For adding a new search engine, you have to select the add button and then fill out the three fields.
To change the default search engine you need to click on the three dots beside your desired search engine and click Make default. 

To edit a search engine you can again use the three dots and edit or remove from the list. 
Once you are done with the above steps, you can start using another default search engine for Chrome. 
Change default search engine for Mozilla FireFox Browser
Firefox comes with a number of available search engines by default. Many websites offer search engines that you can add to Firefox.
This allows you to search with that website's search engine, directly from your Firefox address bar or Search bar.
For changing default search engine you can follow the following easy steps: 
Step One 
Open Mozilla Fire Fox, then click on the three vertical line just beside your profile and select Options. 
Step Two 
Tap on the Search button and then click on the Default Search Engine.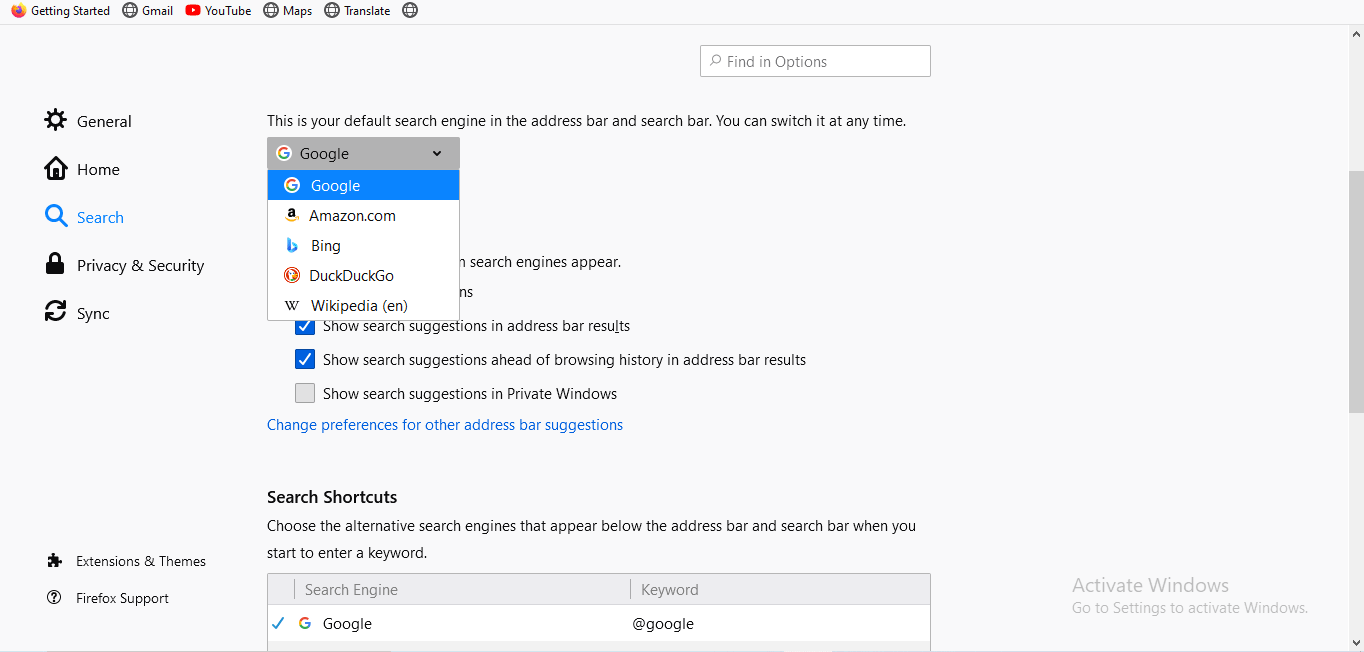 Search Engine Addon for Firefox
At the bottom of the Search panel, click on the Find more search engines link.
The Firefox Add-ons website will open.
Select the search engine add-on you want to install and click Add to Firefox.
Remove Search engine from Firefox
You can remove any search engine only by clicking the search engine links and select the Remove button.  
Change Windows Cortana Search Engine
Even if you have changed your browser search engine Cortana will still show you search results using "Bing" as it's default search engine.
Type Settings into the Cortana search bar and hit Enter.
Select System.
Choose Default apps.
Navigate to Web browser, click Microsoft Edge and change it to Firefox or Chrome.
Download and install the Chrometana extension.
Choose your preferred search engine from the list that pops up after the install.
You may also like to read:

How To Record A Video With Google Chrome?

Top 10 Best Chrome Extensions For Gmail

Google Chrome folder location in Windows 10?

How to clear cookies on Chrome, Edge or Firefox Browser.