In this article, we will be providing you list of best typing software for pc, which are available for free download for windows or mac.
Typing Master is one of the best and very popular in schools and colleges to study learning and practice of typing, typing master is the oldest most helpful software every beginner should have to use.
It's having all the great lessons and studying new steps of the keyboard to type in a better position so that it will make the habit, it contains lots of great lessons of numbers and syntax that make the finger free and easy to use, Typing master is free to download and readily available on Windows computers.
Features:
WPM measure feature.
More great lessons.
Typing tutor offline tool free.
KeyBlaze is an interactive program that can help you go from typing 40 words per minute (wpm) to 75 wpm with regular practice.
It's designed to assist users who wish to learn to touch type, improve speed, and employ all ten fingers while typing.
It doesn't matter what skill level you're at, the program has more than enough features for both beginners and professionals.
From basic lessons to advanced drills, the program helps in highlighting your unique problem keys, takes you through proper capitalization and punctuation techniques, and tutors you on the ideal way to press the neighboring as well as home keys. 
Features:
Free to download and use
Interactive program
Helps improve typing skills
Offers basic and advanced lessons
Suitable for beginners and professionals

JustType will help you to be familiar with touch typing without any tutors. You'll type, not to learn to type as you do with the keyboard tutors programs.
JustType displays the on-screen keyboard, the keys of which at any given time are shown exactly the same characters that appear in text, typed when you press the key of your real keyboard.
The symbols on the keys are changed dynamically depending the selected language and register of symbols automatically without your participation.
Features:
Easy to use with on-screen keyboard support.
keys are changed dynamically depending the selected language
TutorTyepe comes with a clean user interface and then this makes the learning very easy. 
The program also comes with a ProTrainer that monitors the typing and alerts to you incorrect spellings in words and any misplaced letters. While typing, the typing tutor adds words to the dictionary and thus enriches the database.
Features:
Comes witha ProTrainer
Suitable for beginners 
Comes with intuitive layout
Cool Type Master is a program for improving your typing speed and keyboard accuracy and that helps you learn touch-typing in short time.
The touch-typing courses help you learn touch-typing skills with exercises in numeric keys, character keys, upper case and lower-case, and finger placement.
Typing speed tests are designed to measure your typing speed and keyboarding accuracy and the statistics of your typing speed and accuracy rate are displayed as graphs.
Features:
Typing games are fun activities to practice your typing skills while relaxing.
Personal record tracking system
The word and text drills are scientifically designed to help improve typing accuracy and keep you typing fluidly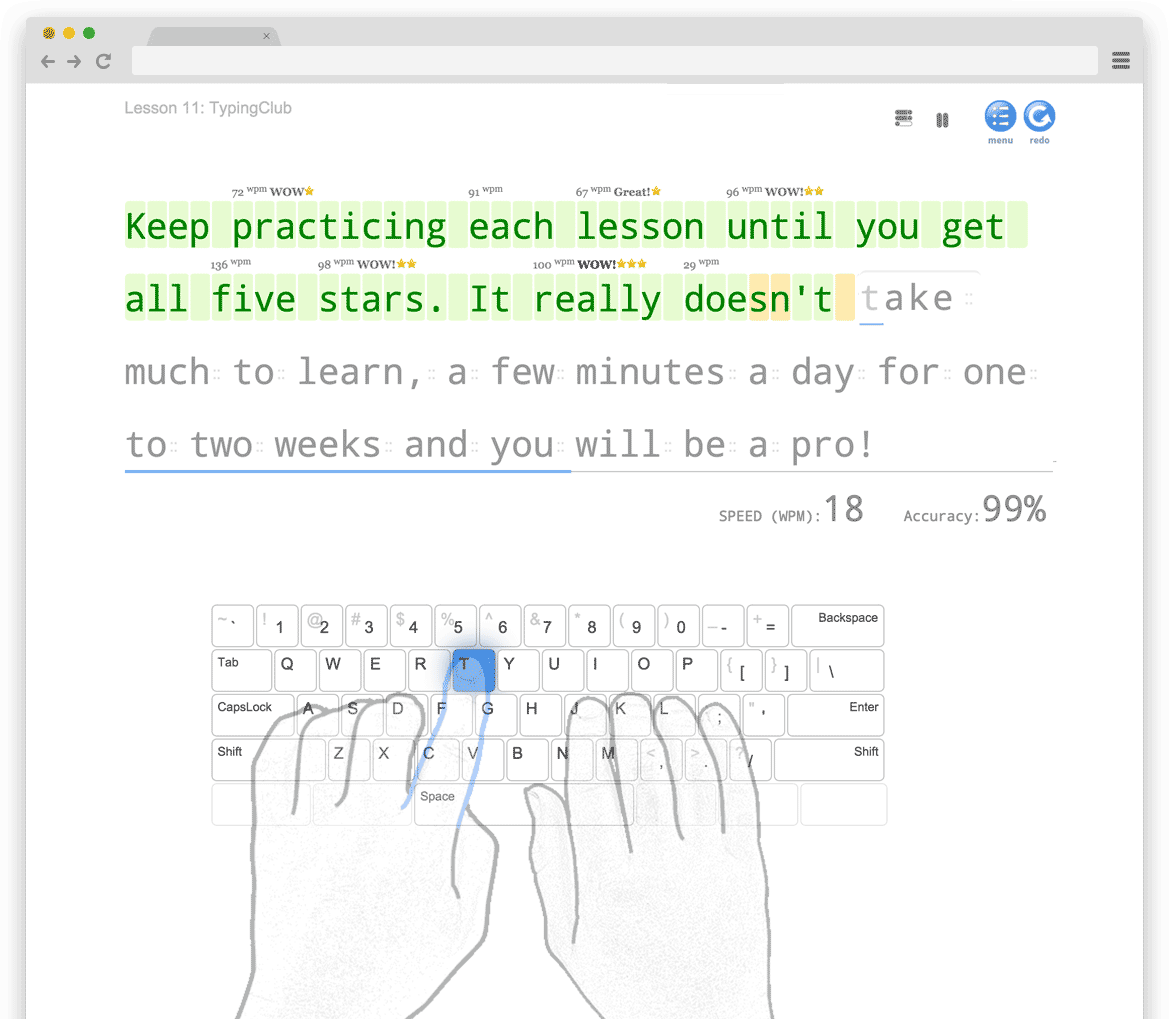 Typing Club is free for both individuals and schools. The web tool works by offering everyday lesson and once you are a pro you will be awarded a 5-star rating.
The Typing Club is intuitive and interactive.
Features:
Good for teachers to design lessons.
It offers you assistance about the correct hand posture on keys as you type.
It keeps you motivated and builds your muscle memory by offering stars and badges.
This powerful typing tutor will help you improve your typing substantially whether you are a novice or a seasoned professional. MaxType PRO has a lot of functions that will satisfy your changing needs as your skills and speed improve.
Features:
Measures typing speed in CPS, CPM or WPM.
Measures typing speed for each hand.
Max Type Pro helps learn typing with six different modes
You can download it for free on Windows or Mac
Generates reports for each typing mode with a lot of statistical data which can be printed.
That's it, for now, we will keep adding more typing softwares for windows, if we found them worth mentioning here, if we have missed any please let us know in comment section.
You may also like to read:

How to Check If Windows 10 Is Genuine or Not

How to open task manager in windows 10? (Various ways explained)