In previous article, I have mentioned Best Free and Open source UI mockup tool but in this article, I have mentioned Best Free and open source Jira alternatives with it's features, or you can say we have listed of open source agile tools like jira, which can be helpful for startup looking for free project management tool.
1. Openproject

OpenProject is an open-source project management software with a wide set of features and plugins. It supports project timelines / Gantt charts, issue tracking, wiki, document management, time and cost reporting, code management, Scrum and much more.
Features:
Project planning and scheduling
Product roadmap and release planning
Task management and team collaboration
Agile and Scrum
Time tracking, cost reporting and budgeting
Bug tracking
Wikis
Forums
2. Taiga.io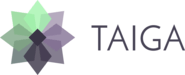 Taiga is a full featured project management platform for startups and agile developers & designers who want a simple, beautiful tool that makes work truly enjoyable. Kanban & Scrum.
Features:
Customization to fit your workflow including EPICS and sub-tasks
Multiple workflows with Swim lanes
Extensive filter options & search function
Backlog & sprint planning including EPICS and sub-tasks
Integrated and complete issues/bug tracking
Possibility to switch over to Scrum and vice versa
Team performance dashboard
Custom real time reports in your own data editor with CSV URL link
Available in over 20 languages
3. Wekan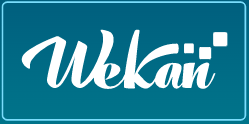 Wekan, formerly LibreBoard, is an open-source and collaborative Trello -like kanban board application.
Features:
Wekan has been translated to about 105 languages.
WeKan supports many platforms. WeKan is critical part of new platforms Wekan is currently being integrated to.
Easy UI, similar to trello
You can create custom kanban boards
Easily track bugs.
4. Kanboard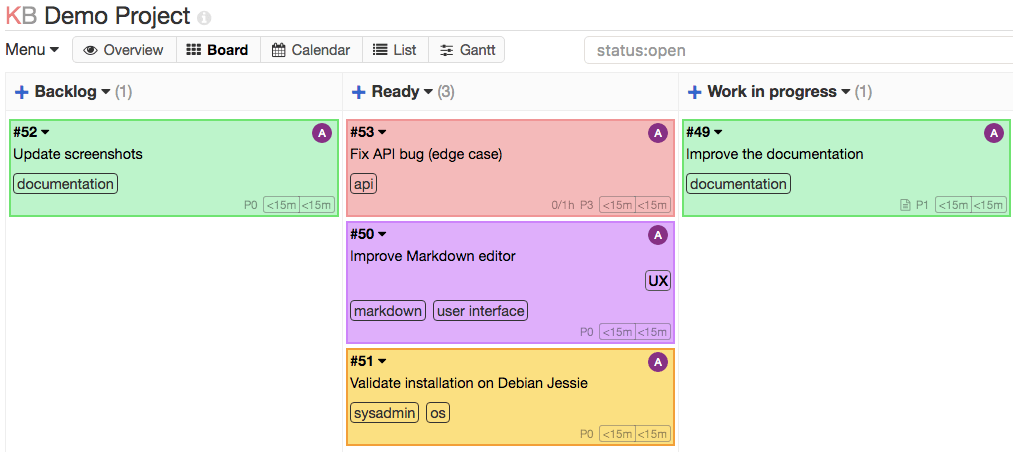 Kanboard is a free and open source Kanban project management software.
Kanboard is a simple visual task board software.
Features:
Visual and clear overview of your tasks
Drag and drop tasks to manage your project
Self-hosted
Super simple installation
There is no fancy user interface, Kanboard focuses on simplicity and minimalism. 
Search and filter tasks
Break down a task into sub-tasks, estimate the time or the complexity.
5. Trac

Trac is an enhanced wiki and issue tracking system for software development projects. Trac uses a minimalistic approach to web-based software project management
Features:
It provides an interface to Subversion and Git (or other version control systems), an integrated Wiki and convenient reporting facilities.
Trac allows wiki markup in issue descriptions and commit messages, creating links and seamless references between bugs, tasks, changesets, files and wiki pages.
A timeline shows all current and past project events in order, making the acquisition of an overview of the project and tracking progress very easy.
The roadmap shows the road ahead, listing the upcoming milestones. 
That's it, these are some of the best open-source jira alternatives, which you can use, if we have missed any application, please mention it in comments below.
You may also like to read:

Best Notion alternatives (open source and free)

Best Free Alternatives for Obs Studio

Best AnyDesk Alternatives (Open-Source and Free)