In previous article, I have mentioned Free Adobe Photoshop Alternative but now in this article, I have mentioned best free and open-source UI mockup tool, which a UI or Graphic designer, can use to create mock-ups or wireframe for free.
1. Pencil Project
Pencil project is an open-source GUI prototyping tool that's available for ALL platforms (Windows, Mac or Linux).
Pencil is built for the purpose of providing a free and open-source GUI prototyping tool that people can easily install and use to create mockups in popular desktop platforms.
Features:
Easy GUI Prototyping
Provides built-in shapes, Pencil provides various built-in shapes collection for drawing different types of user interface ranging from desktop to mobile platforms.
Diagram Drawing Support
You can have your drawing exported as a set of rasterized PNG files or as a web page that can be delivered to the viewers
Pencil has a clipart browser tool that integrates with OpenClipart.org to let users easily find cliparts by keywords and added them into the drawing by a simple drag-and-drop operation
Elements in a drawing can be linked to a specific page in the same document. This helps user define the UI flow when creating application or website mockups
2. Draw.io
Draw.io is a completely free and open-source wireframing software that feels similar in UI to Google Docs.
Features:
Users can export designs to their Google Drive, Microsoft OneDrive, their desktop.

Integrations with Gliffy, Lucidchart and more.

Free and Browser based.
3. Wireframe.cc
Wireframe.cc is one of the most popular wireframe open source tools out there that can be accessed by visiting its web source.
Features:
You can draw a new element by clicking and dragging your mouse cursor across the canvas and selecting a stencil from a pop-up menu.
Enabling the smart guides allows you to draw with greater precision and speed.
You can export wireframes to a PDF file or a series of PNG files.
Create master pages, so you don't need to create same elements in multiples pages
Pages can be linked
4. Framebox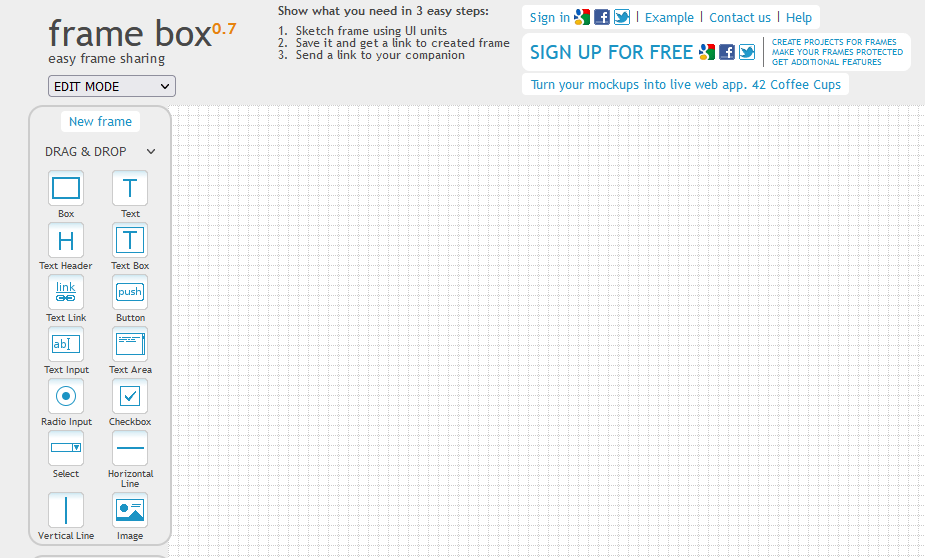 Framebox is also another completely free wireframing tool on this list.
Features:
It is a drag-and-drop tool that allows designers to sketch wireframes using UI elements.
Save progress and History
Free and Browser based.
Allows you to create custom link and share it with team.
5. Mydraft.CC
Mydraft.cc is a completely open source and free wireframing tool that is accessible anywhere you can use a browser.
Features:
Free and browser based, so this is also cross-platform
Drag and Drop functionality to add button, checkbox etc
You can also add icons
Can add multiple pages and link them
That's it, these were some of the top free and open-source UI tools or you can say free and open-source wireframe tools for Graphic designers.
You may also like to read:

Best Notion alternatives (open source and free)

Best Free Alternatives for Obs Studio

Best AnyDesk Alternatives (Open-Source and Free)