In a previous article, I mentioned Best free LastPass alternative to use but now in this article, I have provided a list of similarweb alternatives that you can use to get your or your competitor's website organic traffic, keywords, traffic sources, etc.
1. Ahrefs (Free for your domain)
Ahrefs is one of the best Similarweb alternative tools to analyze a website's traffic details, organic keywords, and traffic sources.
For SEO professionals, Ahrefs lets you learn what SEO and link-building strategies are making the most impact on certain sites, audiences, products, and services.
This tool will ultimately help you to boost your organic traffic to boost your sales and affiliate marketing goals by a sizable margin.
Features:
Free analysis for your own domain
Get regular updates on backlinks and organic traffic
Ahrefs allows you to check if your competitors are using PPC ad campaigns and what keywords they are bidding on
2. SEMrush (Limited details for free)
SEMrush is another similarweb alternative tool that is considered as the best software for analyze a website's traffic details, organic keywords, and traffic sources.
Along with competitor analysis, SEMrush provides you SEO features like keyword research, traffic analysis, backlink monitoring, content marketing, and many more.
Semrush has been voted the best SEO tool by hundreds of experts across a range of categories.
Features:
An all in one SEO solution
Allows you to view your domain's partial SEO details for free
Allows you to check competition domains and your domain's common keywords.
Perform PPC keyword gap analysis to find untapped paid traffic opportunities.
Analyze competitor backlink profiles to find their most powerful sources.
Track SEO opportunities in real-time
Serpstat is one of the cheapest alternative to similarweb.
It is designed to improve areas such as PPC, content marketing, search analytics etc, but the app also tells you who is ranking first on the SERPS & offers the tools you need to get ahead of them.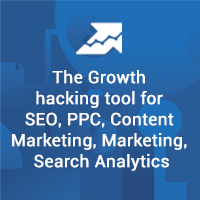 Features:
Find all keyword options, similar keywords and suggestions
Find niche leaders by keywords and their ad examples
Analyze the SEO of your site's subdomains
Select authoritative sites for placing links
Track ranking of your closest competitors
Find your competitors in SEO and PPC
Find out the most popular pages of competitors that attract traffic
Track PPC for specific keywords and many more.
SEO PowerSuite holds enough tools for an SEO campaign of any caliber.
SEO PowerSuite covers all search engines and offers unlimited sites, keywords, and backlinks to track, and the best part is that many of those features are free.
It's got everything crucial for the SEO industry: from an SEO analysis tool to keyword research tools, to backlinks checkers, to content editors, to PPC ads optimization, and much more.
Features:
Discover heaps of profitable keywords that are easy to optimize for with SEO PowerSuite's
Uncover competitors' keywords, rankings, backlinks, and content strategy - and implement their foolproof techniques on your own site.
Monitor organic and universal rankings in 300+ search engines, match keywords to landing pages and easily track progress made over time.
Get stats on pages' and backlinks' popularity on Facebook, Twitter, LinkedIn, Pinterest, and other social networks.
Unlock Google Analytics' hidden data in SEO PowerSuite and have the "not provided" visits calculated with 91% precision.
Generate sitemaps and robots.txt files in SEO PowerSuite to save locally on your computer or upload to your site right away.
BuiltWith is usually to get data on technologies that your competitor domain is using and how you can get benefits of that tools.
BuiltWith is a truly comprehensive tool that will mine a ton of information from anyone's site and serve it to you in a manner you will be able to crunch and use it.
Features:
What metrics is your competition tracking?
What content management systems do they have in place, do they utilize content delivery networks, and can those benefit you as well.
What you should not target.
See who has churned between competitors or who is trialing competitor software.
Connect your account with Zoho to add technology data to records.
Compare technologies with one another and see who is moving from one to another.
Moz is SEO software to help you increase traffic, rankings, and visibility in search results. 
Moz gives you free SEO tools like Link building explorer, keyword explorer etc.
Features:
Have free features like Link building explorer, keyword explorer etc.
Gain intel on your top SERP competitors, keyword gaps, and content opportunities.
Get top competitive SEO metrics like Domain Authority, top pages, ranking keywords, and more.
Free 10 queries/month.
That's it, there are many other similarweb alternatives, but we have tried to mention those, which has atleast some free credits to use per month for better SEO and trafic analysis.
You may also like to read:

Best Twitch Alternatives to use for gaming

Best Auth0 alternatives (Open source or Free)

Best Clock Widgets for Windows

Evernote Web Clipper Alternatives