In previous article, we mentioned Wireshark Alternatives but in this article, I have mentioned best free or paid bandwidth monitoring tools which you can use for windows, mac or linux.
Whether you are working from home or office, sometimes, you would like to know which application is using how much of your internet data each day or even each hour, so in this article, we have provided a list of the best free/paid bandwidth monitoring tools, which you can use on Windows, Linux or Mac OSx to monitor bandwidth usage.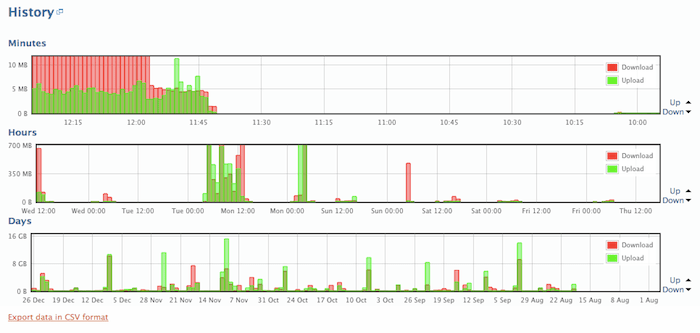 It is a capable bandwidth meter, that helps users test their internet connection.
Shows a graph that gives you an idea of the total download and upload times over a given period.
You have the pleasure of monitoring the use of your internet connection using various charts.
The History pane illustrates how your connection usage has changed over the last few hours, days, and months
Features
The bandwidth is designed individually by downloads and uploads and also provides an idea of the fused overall of the whole.
The query window helps you documentation about the network usage for every particular day.
BitMeter OS is a free, open-source, bandwidth monitor that works on Windows, Linux and Mac OSX.
Alerts to notify you when your internet usage exceeds some limit that you specify.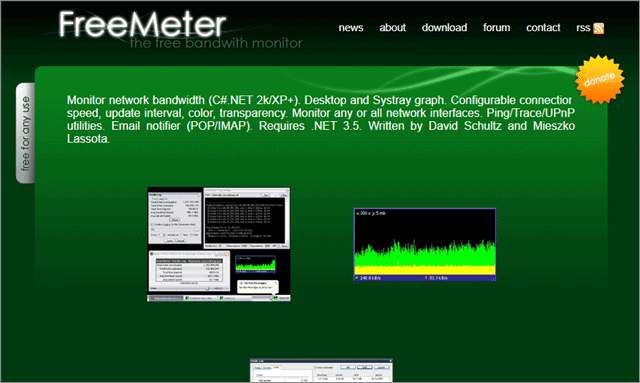 This is lightweight in nature and is a Windows utility. This tool has a humble interface and helps with an active chart that gives you an idea of the current network usage. You can check this usage data with the chart, and if you don't want to keep looking at the chart, you can minimize it.
Features
You have the freedom to run it anywhere on the hard disk or to save on a USB because it is portable.
It has different functions, for example, URL Grabber, Traceroute. You can also get UPnP NAT and e-mail alert services.
You can customize the interface, e.g. changing the colors or the brightness level.
It helps you track internet traffic and bandwidth usage for the entire time you specify. You can download data from the interface. This gives you a clear idea of the status of your network traffic from short to long, that is, for the entire month. There is an icon on the taskbar that can help you get more information about Internet traffic and bandwidth usage. This software requires no hardware and helps the system to run smoothly.
Features
This gives you the freedom to configure network interfaces from the settings menu to monitor performance.
Option to make meter always visible.
Option to exclude bandwidth during a certain periods of day.
Monitors internet traffic and bandwidth usage for the entire specified period of time.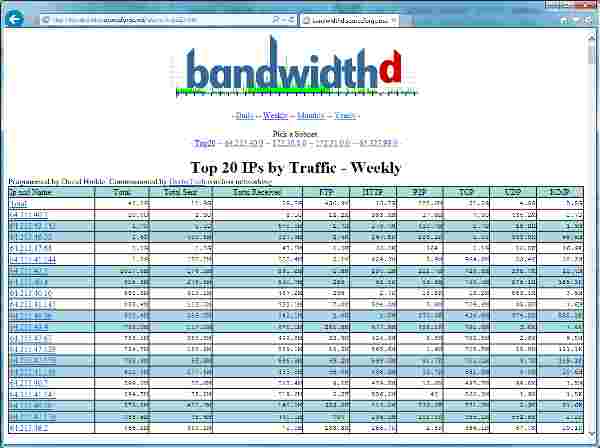 This helps users keep a close view of Internet consumption, which runs separately in the background. You can get the resulting bandwidth usage illustrated in graphical and tabular interface modes. First, you need to unpack the bandwidth, edit the config file, run the batch file for "Install Service". Then you need to run the BandwidthD application from the services to see the bandwidth usage graph. To install this program, you must have Win cap version 3.0 or higher.
Features
By default, it has the ability to keep usage records for up to 400 days.
Has the ability to control the use of TCP / IP network subnets and the sending of HTML files. Usage diagrams are then displayed.
The band can run on a variety of platforms, one of which is Windows.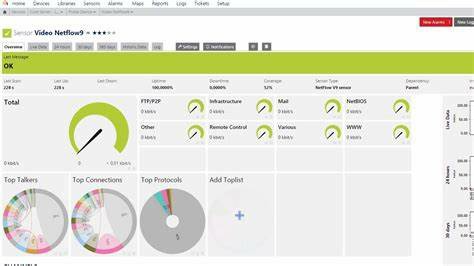 PRTG can estimate network traffic and help provide detailed information in the form of graphs and charts. The download speed is quite fast, which makes Network Monitor work fast. This software provides smoother server speed and removes network blockages. It also tracks additional chores such as load times, response times, and more. It can also handle a wide variety of sensors along with bandwidth monitoring and network analysis. This is a handy tool for Windows that allows you to track your internet usage. Its interface is functional enough that you can do most of your work without interruption.
Features
It starts collecting informative data as soon as you tune the sensor to track the speed of your bandwidth.
Can download sensors such as router, website and web interface.
The overview page helps you track the details of your bandwidth in the form of graphs, charts and tables.
6. Net Worx (Free trial/Paid)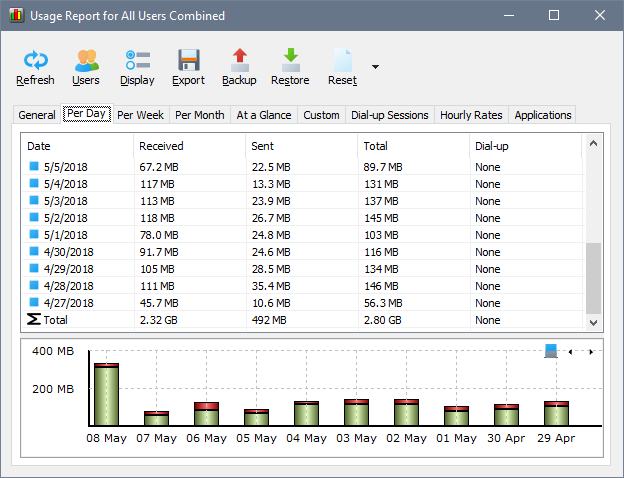 NetWorx is a simple, yet versatile and powerful tool that helps you objectively evaluate your bandwidth consumption situation. You can use this free software to track individual data usage by the system.
A very good tool for monitoring bandwidth at home and in the office.
Has the ability to log network data for free and calculate internet speed and various other connections with this tool.
It can also help you discover any possible causes of network problems.
Net Worx ensures that the bandwidth limits do not exceed those specified by the ISP. It can also notify you about malware such as Trojan horses or any unethical attacks.
Features
The system administrator can set limits to prevent users from deleting the data usage report.
This tool gives you a clear view of your data usage on a daily, weekly, monthly or yearly basis.
If there is a large data stream, there is a notification option to alert you.
You can convert network log file reports to various formats such as Word, Excel and HTML.
Support of cable modems, ADSL, WiFi cards, and more.
Speed meter for testing Internet connection speed.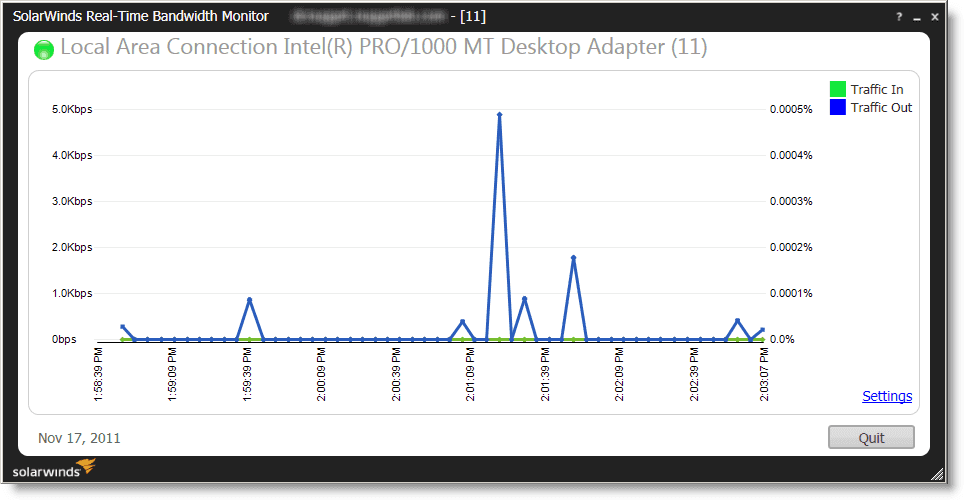 It can be called the best software for monitoring network bandwidth. This software checks Network Bandwidth in real-time and shows the results in a graphic form that is easy to understand. This will help you sort important and disturbing weights to see when your consumption is over a set limit.
Features
Monitor bandwidth use by application, protocol, and IP address group.
Receive alerts if application traffic suddenly increases, decreases, or disappears completely.
Analyze bandwidth consumption over months, days, or minutes by drilling down into any network element.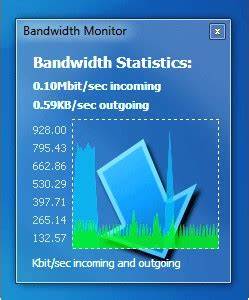 It offers the opportunity to monitor your network connection speed, and it is free to download.
Bandwidth Monitor enables you to keep a close eye on the amount of bandwidth accumulated over the current hour, day, week, month, or even year
Advanced logging tools make it easy to view your bandwidth usage and make alterations to bandwidth logs. Clean up old data at the touch of a button, and import your bandwidth data from our predecessor Bandwidth Monitor 1.0.
Features
You can change the interface preferences by right-clicking the icon on the system tray.
The free version has various functions, the most interesting of which is the real-time database. It also has options for setting and displaying options.
Easy to use.
That's it, these were the most used bandwidth monitoring tools.
You may also like to read:

Best Free Secure File Sharing apps

Best XML Viewer (Free/Paid) softwares

Top 10 Best Alternatives To Outlook