In previous article, I have mentioned Best Keycloak Alternatives (Open Source) but now in this article, I have mentioned Best WinMerge Alternative Diff Tool (Free and Open Source) with it's features.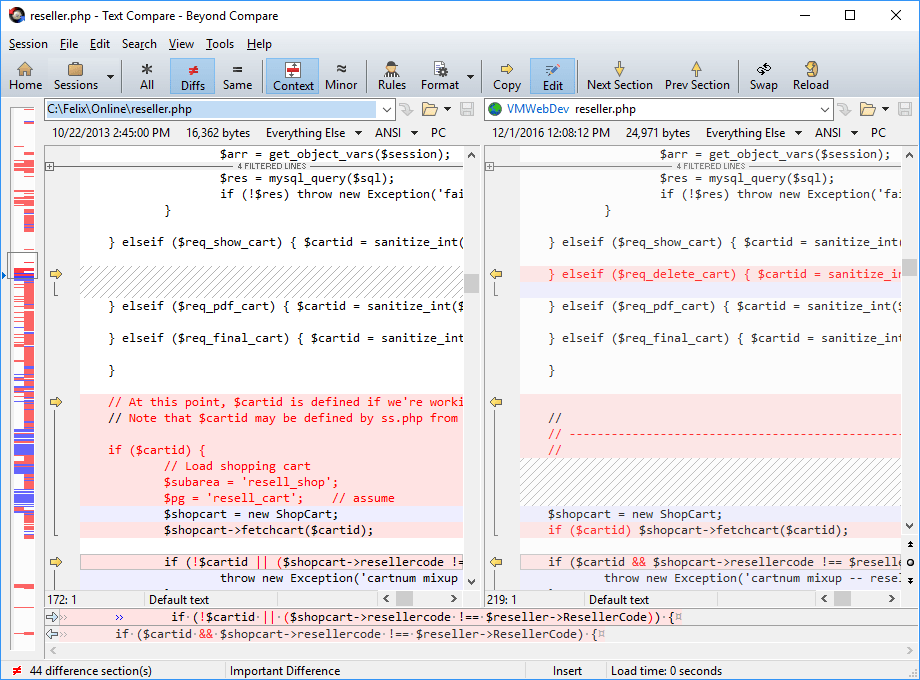 Beyond Compare allows you to quickly and easily compare your files and folders.  By using simple, powerful commands you can focus on the differences you're interested in and ignore those you're not.  You can then merge the changes, synchronize your files, and generate reports for your records.
Features:
Compare Files, Folders
3-way Merge 
Beyond Compare's intuitive Folder Sync interface lets you reconcile differences in your data automatically. 
Available for Windows/Mac/Linux
Free but you can buy pro version if you need 3-way merge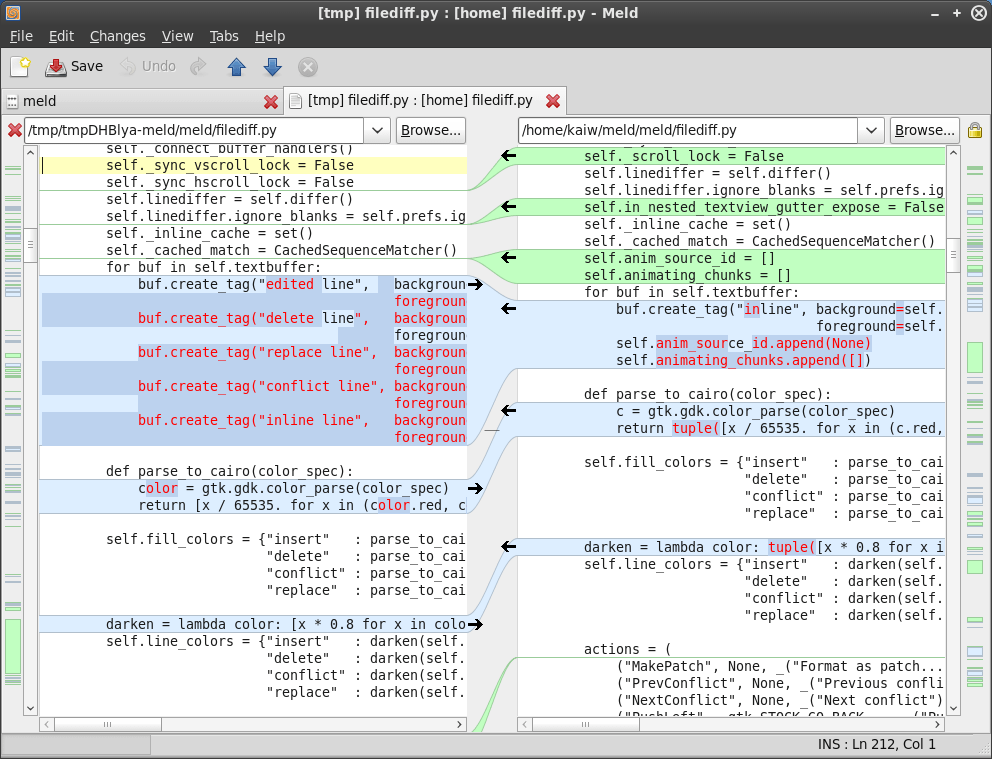 Meld is a visual diff and merge tool targeted at developers. Meld helps you compare files, directories, and version controlled projects. It provides two- and three-way comparison of both files and directories, and has support for many popular version control systems. 
Features:
Two- and three-way comparison of files and directories
File comparisons update as you type
Easily navigate between differences and conflicts
Use the built-in regex text filtering to ignore uninteresting differences
Meld supports many version control systems, including Git, Mercurial, Bazaar and SVN
Command line interface for easy integration with existing tools, including git mergetool
Available for Windows/Linux, you can use Meld from MacPorts
Free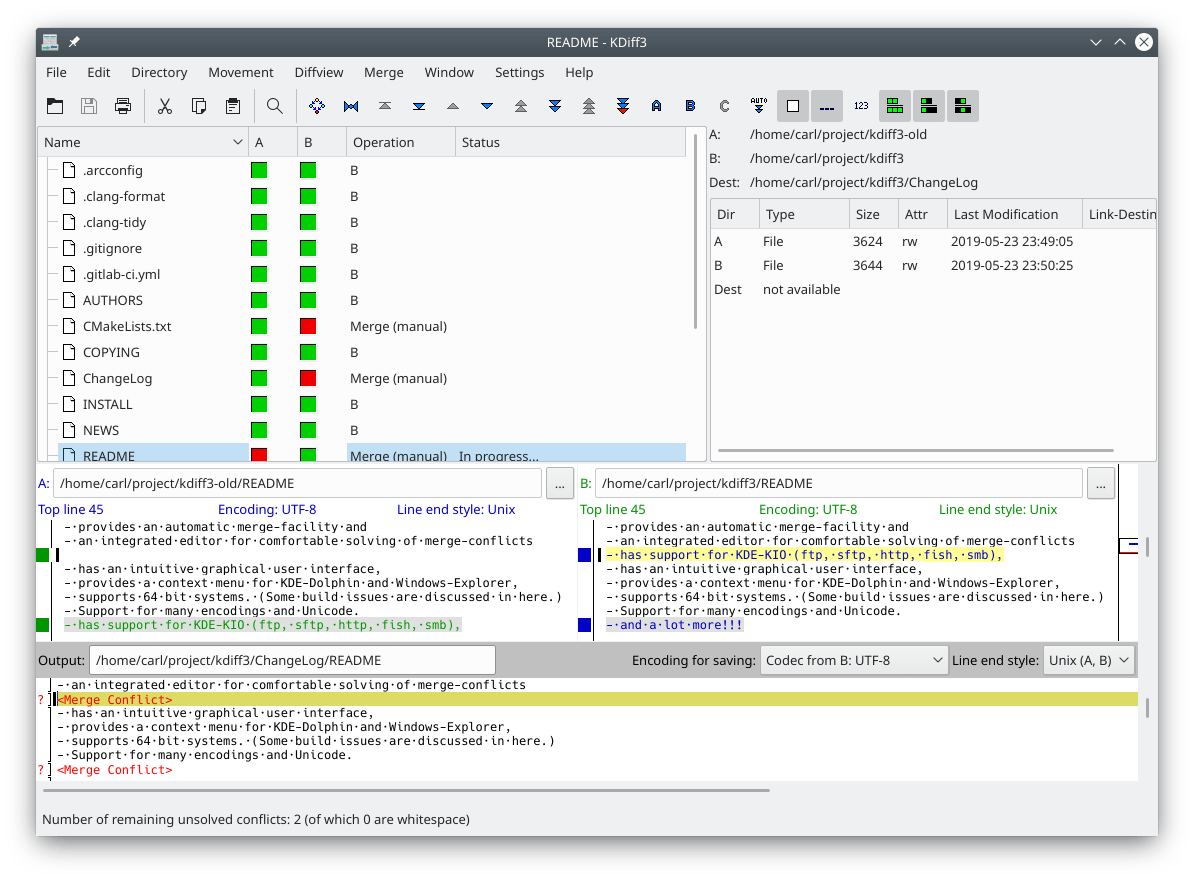 KDiff3 is a file and directory diff and merge tool which compares and merges two or three text input files or directories, shows the differences line by line.
Features:
Compares and merges two or three text input files or folders
Shows the differences line by line and character by character
Provides an automatic merge-facility.
It has an editor for comfortable solving of merge-conflicts.
It has options to highlight or hide changes in white-space or comments.
Free to use
Available for Windows/Linux.
Diffinity is a free diff and merging tool for Windows with focus on accurate and easy to read source code diffs. It will compare the contents of two text files and show all differences line by line and also which individual characters/words that differs.
Features:
Thumbnail view of all diffs
Folder comparison
Differentiates between changed, removed and added lines
Instance highlighting - double click or search for a word to show all instances of it
Customizable interface with support for tabs
In-line diffs live updated as you type
Free to use and download
Available only for Windows users
xxdiff is provided under the GNU GPL open source license and a graphical file and directories comparator and merge tool.
Features:
Comparing two files, three files, or two directories (shallow and recursive)
Files can be merged interactively and resulting output visualized and saved
Has features to assist in performing merge reviews/policing
Uses external diff program to compute differences: works with GNU diff, SGI diff and ClearCase's cleardiff, and any other diff whose output is similar to those
Fully customizable with a resource file
Free to use and open-source merge tool
Available for Windows/Linux
That's it for now, I have mentioned only free and open-source winmerge alternatives, if I have missed any tool please mention it in comments section.
You may also like to read:

Best Auth0 alternatives (Open source or Free)

Best free LastPass alternative to use (Open Source)

Best Pdf password remover for mac